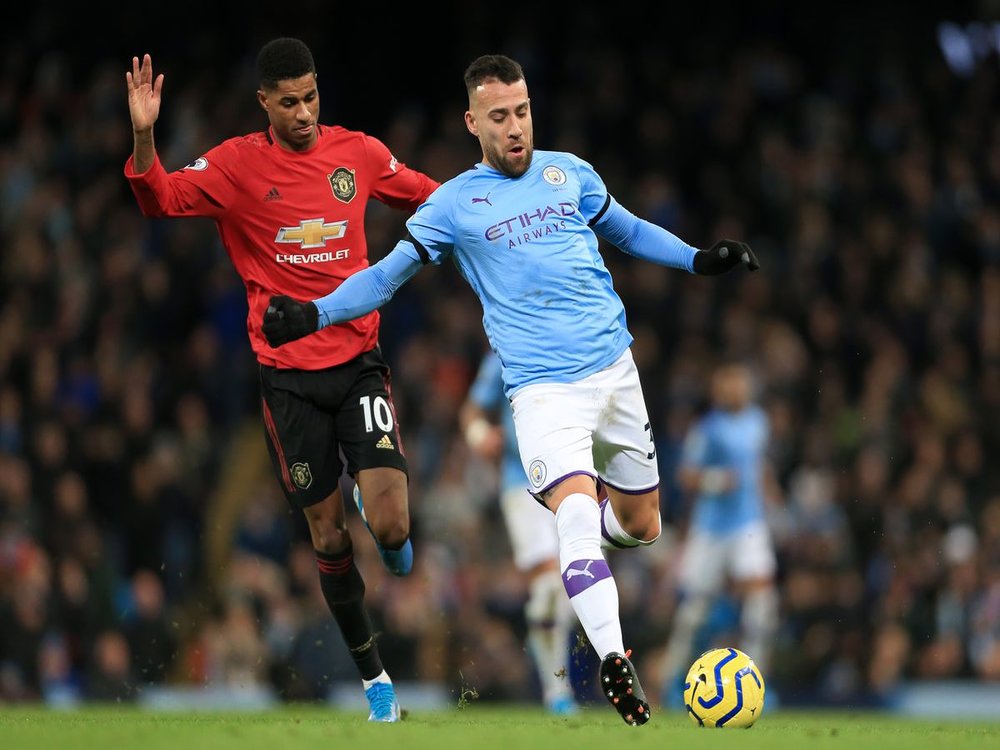 Love Sport Radio's Manchester United Correspondent Wayne Barton reflects on another disappointing evening for Ole's men
Manchester United were left reeling after a first half in which they were relentlessly punished by a clinical Manchester City team who took no sympathy on their weakened neighbours. Marcus Rashford grabbed a consolation goal in the second half, but this League Cup tie is surely over on a damaging night for the Old Trafford club.
Ole Gunnar Solskjaer would have been hoping his team would keep it at least close enough for the second leg to be a worthwhile contest. Instead, he saw his team so mercilessly destroyed in the first half as to surely strongly ignite fresh speculation about his ability to successfully oversee this latest period of transition at Old Trafford.
Injuries and recalls accounted for a number of changes to this Manchester United team but the vulnerable centre of this side was not of the manager's choosing; Harry Maguire failed to make the game, adding to the injuries of Scott McTominay and Paul Pogba, whilst Anthony Martial was not fit enough to start.
Under Solskjaer it can fairly be said that United have put in a couple of their best performances in the post-Sir Alex Ferguson era. They've also put in a few of the worst, and certainly when it comes to big games against big rivals, this could be categorised as the single worst.
City overloaded with midfielders, an unnecessary boast of their incredible riches and turnover of squad, to render Fred and Pereira's role as essentially anonymous. Enough has been seen of the two central defenders for Pep Guardiola to feel confident enough in his midfielders' movement to expose them, as they did time and time and time again.
United began with some encouragement, with James finding space to play a decent ball in; but in the 17th minute, Bernardo Silva was given the freedom of Old Trafford by Fred and Jones who watched on from close - but not close enough - quarters as the mercurial midfielder hit a stunning shot.
It was a procession from that point, embarrassingly comfortable to a scale not yet seen even in the dire depths of these poor years for United fans. Players low on confidence or rumoured to be close to the exit made for a soft belly and although it was 3-0 at half-time it could well have been double and United would have had no room for complaint. For the second goal, Lindelof made two errors, first in giving the ball away with a poorly-directed header and then in being caught out by Mahrez. The Swede is desperately low on confidence and the time to make a change in that area is something bound to be on the mind of the United boss.
For more than half of the first half, City were able to play the game at a testimonial pace; an embarrassing indictment of both the quality in the United team, and, it has to be said, their apparent growing disconnection to their manager's approach.
It was a big second half, then, for Solskjaer and his United team. Lingard was withdrawn at the break for Matic, who made a difference with adding some solidity, but the hosts continued to play short from goal-kicks; a tactic neither centre-half appears to be comfortable with. A tactic the visitors were more than happy to allow.
The introduction of Angel Gomes changed things up; the highly-rated youngster has seemingly been on the periphery of the first team for three years but is now likelier to head towards the exit door. He showed a glimpse of his promise by winning the ball for Mason Greenwood, who fed Marcus Rashford in to reduce the deficit.
There was a little more about United in the second half and certainly enough to suggest there is some pride still in there, whether that came from the manager or within. But it was damage limitation against a side who always looked relaxed with a three goal lead.
Solskjaer has suffered damaging defeats already but none quite featured an experience as horrific as the last thirty minutes of the first half. Yes, there is some mitigation in the players available, but the balance is already shifting, or has already shifted, when it comes to acknowledging the manager's role in things.
There were clearly some illness and injury concerns but there were also clearly options better suited to avoid what was, ultimately, close to a catastrophic first half. If Solskjaer persists with players who are not at the level United need, having spent a year with them, then he must face the relevant questions.
Similarly, it is leaving the club open to accusations of negligence by continuing to ignore the problems in the middle of the park. Solskjaer has spoken about avoiding the wrong player, or signing someone just for the sake of it, but it needn't take 600 scout reviews to identify a player just for the short term to come in and make a difference.
In times of emergency, even Sir Alex Ferguson was not too proud to bring in a short term signing — some didn't work out, in the case of William Prunier and Andy Goram, but others, such as Henrik Larsson, did. After all, some of the poorer teams in the division have dominated United in the middle of the park this season; City's embarrassment of riches just exposed the wound in painful fashion.
There were few bright spots of an evening that was more damning than the scoreline suggested. Perhaps Aaron Wan-Bissaka, who did not shirk his personal duel with Raheem Sterling - for those with long enough memories, the City winger is fast becoming this generation's Ian Rush - was the only player who could really say he did his job well.
But United's problem has been exactly that for years. Some individuals who could hold their head up high, but so very rarely have they looked like a team. At times tonight, they looked as far away from that description as they have at any time in the last seven years.


Ratings :
De Gea 6
Wan-Bissaka 7
Lindelof 5
Jones 5
Williams 6
Fred 5
Pereira 4
Lingard 4
James 5
Rashford 6
Greenwood 5
Subs :
Matic 6
Gomes 6
Martial N/A