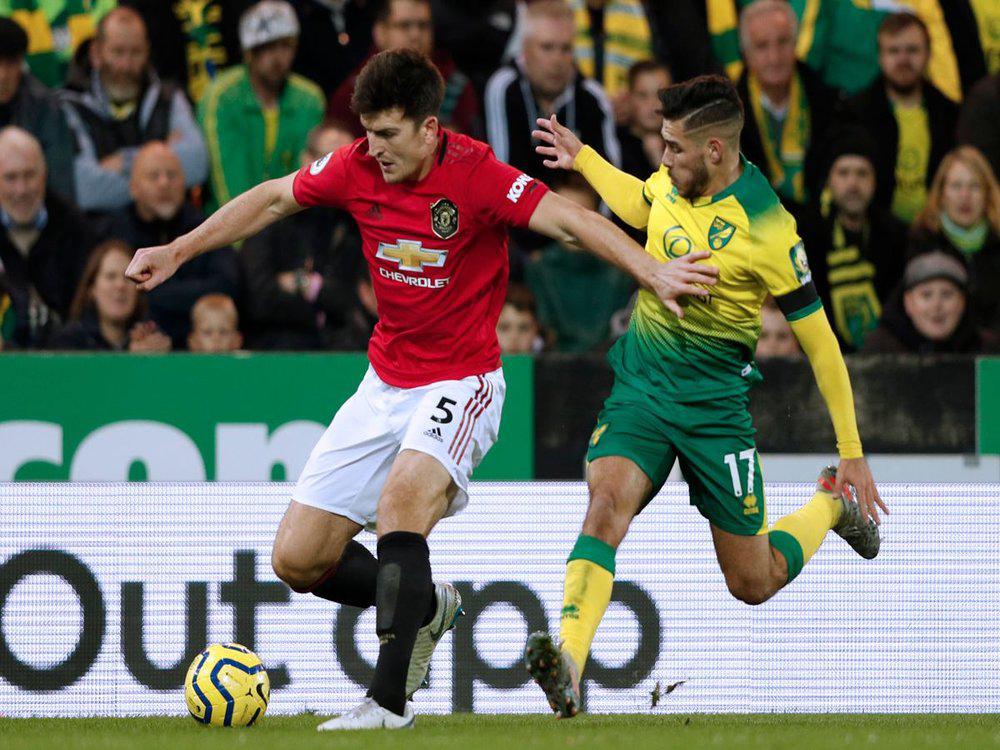 Love Sport Radio's Manchester United Correspondent Wayne Barton assesses the Red Devils' performance
Manchester United brushed aside relegation favourites Norwich City with some ease at Old Trafford. Enough ease to leave some content with what they saw - enough ease to still see some angry.
After defeat against Manchester City, and more, the manner of it, the mood was quite spicy in a game United were expected to win at a canter.
United clearly played with the acceptance that they had something to prove in the first half and even though they went into the interval ahead, and played some entertaining football in the process, you couldn't help but get the impression that a finer balance needs to be struck between being ruthless and trying tricks. Given the clinical way United were taken apart by City, some of that quality was desired by home fans.
Marcus Rashford in particular showed plenty of fine touches, as did Fred and Andreas Pereira, but there were times earlier in the first half when you wondered if United would be better served going for the jugular instead of teasing their opponent. Norwich were willing victims on this occasion but Solskjaer's team will not always find such amenable opposition; nor are they good enough to showboat against the better sides in the division.
One flair player you could not ever excuse of performing without economy is Juan Mata. Solskjaer - like his predecessors - has struggled to get the balance right when finding a place or a game for the creative Spaniard to be at his most effective. Here, it seemed to be perfect, and it was Mata's fine pass which cut through the visitor's defence to provide a goal on a plate for Rashford.
Reward, then, instead of punishment for showing off a little too much. There was a sting in the tale when Norwich forced a late save in the first half from De Gea; the situation had come about from Williams trying a Paul Scholes special from a corner - Wan-Bissaka pulled off a stunning block, but Norwich were able to break and Cantwell tried to curl it around the United stopper, who made a fine stop.
The second half saw that ruthless touch; two goals in the first ten minutes killed the game as a contest. The impressive Brandon Williams was brought down in the box by Tim Krul, and Rashford - who had spot-kick woe against the Norwich stopper in their previous meeting - despatched the penalty. Within minutes it was three - another Mata cross was headed in by Anthony Martial.
Williams could have made it four but instead fired high over the bar from inside the six-yard box to claim the miss of the season.
A fourth was forthcoming, a fine drive from substitute Mason Greenwood, as Solskjaer took the opportunity to rest Rashford and Martial. Ironically, with the game in the bag, the last fifteen minutes were a non-event; it became difficult for Angel Gomes to make much of an impression.
Nonetheless it was a fine win with some very good moments, albeit with the caveat of it coming against such a confidence-hit Norwich.
The decision to play Maguire did not backfire, United were able to score a few goals past the type of team who notoriously make it difficult for them at Old Trafford, and, in fielding the likes of Williams, Gomes and Greenwood, with Rashford acting as the star man, Solskjaer deserves credit for working hard and persevering with the greater integration of younger players into the side.
It is no surprise that doing so coincides with United's better performances and better atmospheres; the home crowd are always likely to be that little bit more vociferous in getting behind home-grown talent.
Amongst some supporters, Solskjaer has almost become the subject of derision, with complaints about sticking with young players often used in accusations of being a convenient patsy for the owners. One can see the point in that, although the prevailing truth is that it is so integral to United's identity in the positives it brings, so even if the intention has somewhat dubious grounding, the ends justify the mean.
Are the youngsters good enough? Only time will tell. But working with them and giving them the opportunity is much healthier for the club and the connection with the majority of the support.
Some remain dissatisfied. Tuesday's defeat came with a sting that will linger for some time, and Saturday was no compensation for it. A vocal majority spent periods of the second half criticising the owners and Ed Woodward, whilst also voicing support for the manager. It was a clear message from the Stretford end.
Those questions were put to Solskjaer afterwards. His answer - "I have been backed" - would have been disappointing to those who chanted, and though sympathisers would acknowledge there was little else he could have reasonably said, sometimes silence is golden.
Solskjaer was one of the few players to speak out against the proposed Glazer takeover back in 2005; time is a funny thing, and fifteen years is a long time. Some of Solskjaer's most vocal online critics may not even be aware of his comments from back then. For those, the victory over Norwich was almost like a red rag to a bull.
Some of course do remember, and wonder if Solskjaer has shown himself to be hypocritical in his desire to keep the job he clearly cherishes.
It is a point of conversation, but again, whatever the derivation, Solskjaer is clearly determined to rebuild United in accordance to the identity the club had when he was a player. He is the first of Sir Alex Ferguson's successors to seek advice from the great man, who, in turn, was the first of Sir Matt Busby's successors to do likewise.
The 4-0 win does nothing to allay concerns about the strength of the squad. United are still desperate for at least another player in midfield and they are looking. Until that day, the Jekyll and Hyde performances of Manchester United will continue.
During that process it is surely more conducive to a healthier state of mind and sunnier disposition to take the positives where you can find them; Rashford's growing consistency, Williams making another statement of intent as to his status as first choice, Wan-Bissaka having a superb game, and Greenwood impressing in a cameo are all not only strong positives to take from the game, but as a season as a whole.
That is not to demonstrate ignorance to the real problems facing United; but if an afternoon where so many home-grown players contributed to a 4-0 win in the top division - a score the club have only registered 18 times in 240 games since the 2012/13 season - can not bring you some joy, one has to wonder if it is indeed the grumbling supporter who is more unfamiliar with the tradition Solskjaer is working hard to restore than it is the manager.
Ratings :
De Gea 6
Wan-Bissaka 8
Lindelof 7
Maguire 7
Williams 8
Fred 7
Matic 7
Pereira 7
Mata 8
Rashford 8
Martial 7
Subs :
James 6
Greenwood 7
Gomes N/A