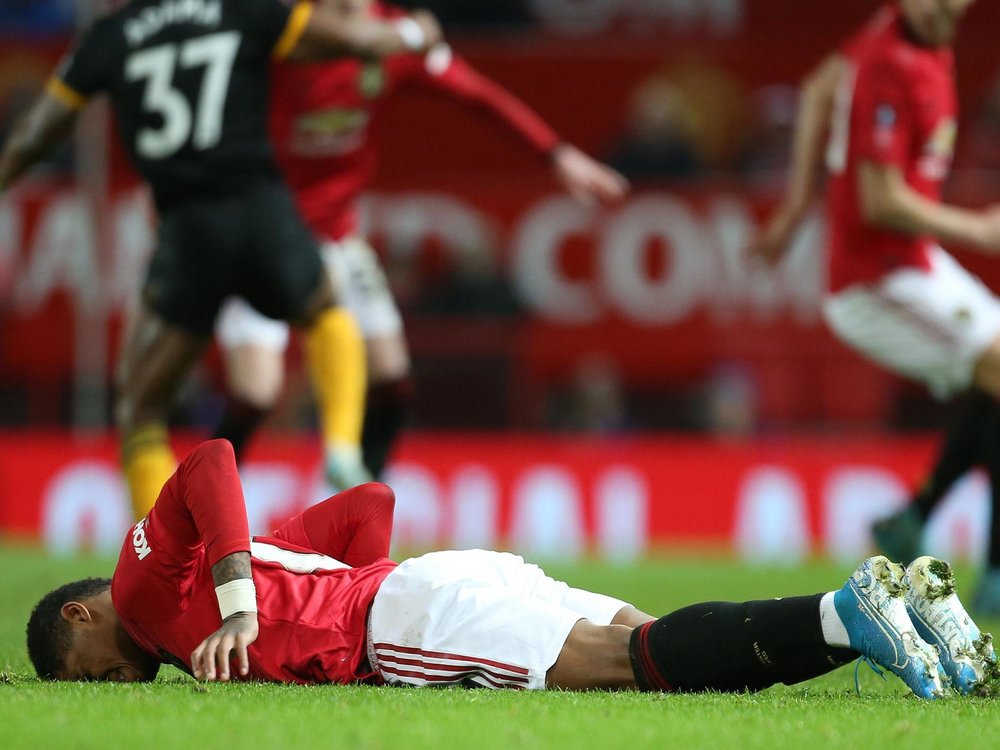 Manchester United edged through an instantly forgettable FA Cup 3rd round replay thanks to a second half goal from Juan Mata.
Ole Gunnar Solskjaer showed how serious he was taking the game and the FA Cup by naming a strong side with only Marcus Rashford and and David De Gea rested. Mata - excellent against Norwich City on Saturday - was given another chance from the start.
Despite naming a stronger side than the first tie, the performance was remarkably similar to it. Wolves were organised, and with a midfield of Joao Moutinho and Ruben Neves, boasted a pair United supporters would probably be happy to swap for their own; the visitors dominated the tempo of the first period and could probably claim to be comfortable, if not comfortably superior.
After a couple of anxious early moments in defence, United looked to have been punished in the 10th minute; Fred, previously so impressive as he continues to fight for his Old Trafford future, has struggled of late since Nemanja Matic's recall has meant the Brazilian has had to shift across to the right hand side of centre midfield. It came at a cost against Arsenal as Fred was pulled out of position and he struggled again against Manchester City last week.
Here, he attempted a cross field pass from the right-back position which was way too casual; the ball struck Nemanja Matic and bounced into the path of Raul Jimenez. The Wolves forward, who had previously already missed a big chance, tussled with Harry Maguire and the ball bounced to Neto, who converted past Romero. Jimenez, however, was adjudged to have handled the ball — the latest victim of a surely much too harsh interpretation.
United were relieved but did not truly use the let-off to galvanise their own performance. Daniel James had a couple of openings and Anthony Martial had a rare effort on target but it was far from a convincing effort from the hosts.
Those in attendance - less than 67,000, still the biggest crowd of the round but almost 10,000 shy of capacity - would have been hoping for more entertainment in the second period.
It wasn't forthcoming.
A goal was, however. After Solskjaer made a double change, bringing on Rashford and Pereira, United finally made a breakthrough. Anthony Martial held the ball smartly and released it for Juan Mata to break clear - if not at break-neck speed - of the Wolves defence and clip it past the goalkeeper.
There were conflicted emotions as Rashford succumbed to a back injury and had to come off just fifteen minutes after coming on. It did not look to be such a serious injury but he could face a race against time to play Liverpool at the weekend.
The objective was to qualify and United did that, but it was hardly convincing. If their first win over Wolves in six attempts was deserved by virtue of the fact they scored a goal then all the usual issues about being able to break down an organised team were there for all to see. If Rashford does fail to make Sunday's game it is difficult to see how Solskjaer's team can make much of an impact in the midfield or attack.
That said, the objective of the evening's mission was accomplished, if not in glittering fashion.
Ratings :
Romero 6
Wan-Bissaka 7
Lindelof 6
Maguire 7
Williams 7
Matic 7
Fred 6
Greenwood 5
Mata 7
James 5
Martial 6
Subs :
Rashford N/A
Pereira 5
Lingard N/A