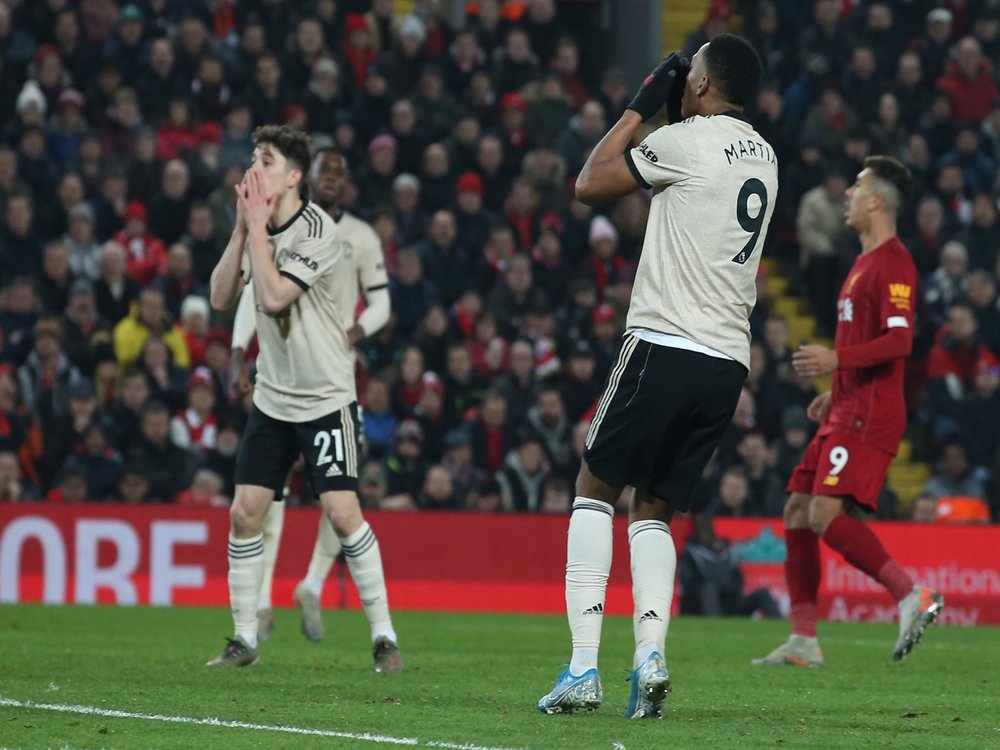 Love Sport Radio's Manchester United Correspondent Wayne Barton looks back on a bad day at the office
Manchester United succumbed to a 2-0 defeat to Liverpool as the Anfield club continue their relentless onslaught on the Premier League title.
Goals from Virgil Van Dijk and Mohamed Salah gave the hosts a deserved victory on a weekend which has surely decided the fate of this season's championship; but there are ways to lose, and United might feel that their two goal defeat this season was not quite as damning as it was last year.
Of course, last year's result was the end for Jose Mourinho, whose position was untenable after losing 3-1 to Jurgen Klopp's side. There are fresh reports that Ed Woodward has asked Mauricio Pochettino to remain available for a summer appointment, but either way, Solskjaer's position does not appear under any immediate threat.
If the United boss escapes some criticism for a fairly decent tactical approach, he also deserves some for perhaps not being a little more pragmatic. Whether he deserves it or not, he certainly faced a lot of criticism from plenty of observers following fresh news that Marcus Rashford is likely to miss most of the rest of the season with a combination of different ailments, one of which may require surgery.
No Rashford, no Scott McTominay and no Paul Pogba, Solskjaer's team were up against it and conceded an early goal to Van Dijk from a corner. It was an uphill battle from that point and there were one or two periods of intense Liverpool pressure; indeed, these seemed to be invited by a United approach that was reliant on some profligacy on part of their hosts.
That duly came, but, such a game-plan also relies on clinical and economic use of the ball when you have it. United are not good enough on this score, and were duly wasteful, often surrendering the ball back and inviting more pressure.
Two goals were scored and disallowed; Roberto Firmino had the ball in the net after Paul Tierney inexplicably refused to blow for a foul on David De Gea by Van Dijk. De Gea was booked for protesting; it was a bad call from the official. United soaked up the pressure and remained at 0-1 at the break.
It was the best to expect from a squad that has really been exposed for its poor squad turnover in the last three years.
And yet, there were bright moments. Anthony Martial should have scored, while Fred and Andreas Pereira both got into good positions, but showed the issue with the deep-rooted anxiety which comes with a vulnerable place in the team; you can almost pinpoint the moment of indecision before a rash impulse overtakes them, so keen are they to make an impression, a statement.
This was far from their worst game, but Liverpool were aggressive, tenacious and confident in midfield, often seizing that initiative to ramp up the tempo. United were often timid and bullied; not in the same way they capitulated last year, rather, this is a compliment to the prowess of Klopp's men who knew they were the better team.
Complacency did indeed become their most formidable opponent.
A late flurry from Solskjaer's side after the introduction of Juan Mata and Mason Greenwood would have left some wondering why they weren't introduced earlier, but it would be a harsh critic who really went to town on the United manager's strategy.
Piling forward for an injury time corner, they left themselves exposed for Salah to finally break his duck against David De Gea; Liverpool celebrated with all the vigour you would expect, knowing the significance of the goal.
For United, Solskjaer knows there is now a pressing need to strengthen his squad. It should have been obvious before these three key injuries, but it is of paramount significance considering two of them are likely to be longer term absentees.
Selling clubs know that too. United supporters won't care; neither, really, will Solskjaer, who will surely soon begin to realise that standing firm when haggling over transfer fees only protects one of the pair of he and Ed Woodward.
Ratings :
De Gea 6
Wan-Bissaka 7
Lindelof 6
Maguire 6
Shaw 6
James 5
Fred 6
Matic 6
Williams 7
Pereira 6
Martial 7
Substitutes :
Mata, Greenwood, Dalot : all N/A