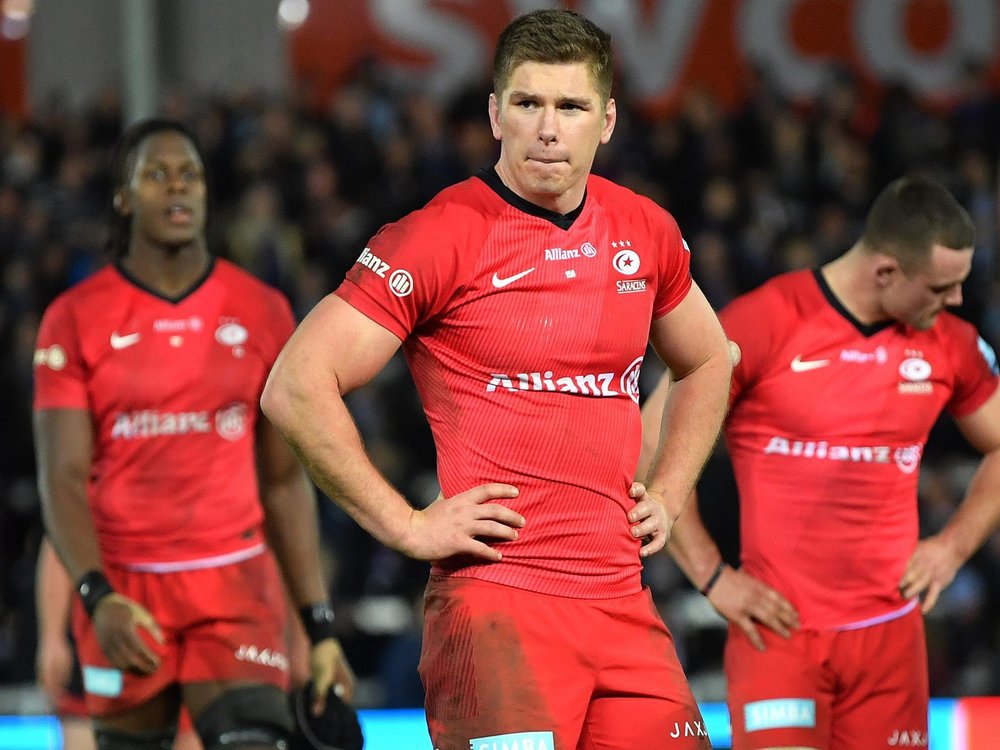 Sarries will be back before long - but can you say the same for their reputation?
"You lot may all be internationals and have won all the domestic honours there are to win under Don Revie. But as far I'm concerned, the first thing you can do for me, is to chuck all your medals, and all your caps and all your pots and all your pans into the biggest flipping dustbin you can find, because you've never won any of them fairly. You've done it all by bloomin' cheating."
That, of course, is what Brian Clough supposedly told his new Leeds players when he took over as their manager in the summer of 1974. But it may as well have been what the 12 other members of Premier Rugby Limited told Saracens at yesterday's momentous board meeting, as it was decided that the back to back European rugby Champions would be sent down to the 2nd tier of English rugby next season.
As the sun rose in Tokyo on the morning of November 2nd last year, Owen Farrell, the Vunipolas, Maro Itoje and several other stars of both Saracens and England appeared to be on a never-ending upwards trajectory: winners of multiple domestic & European club honours, vanquishers of the mighty All Blacks in the World Cup semi final a week before, and just 80 minutes away from becoming World Cup winners and sporting immortals.
Just 3 days later, life didn't seem quite so simple. After a crushing World Cup final defeat to South Africa, they returned home to the news that Saracens had been deducted an unprecedented and eye-watering 35 points and fined a record £5.3 million for breaching salary cap rules. Little did they know, though, that much worse was still to come.
Today's news that Britain's most successful sports team of the last decade is to be relegated has rocked the sporting world and leaves as many questions as it does answers. Just how much did Saracens exceed the salary cap by in the last few seasons? Who exactly knew that this was going on? And possibly most tellingly of all, who was behind the scheme to cheat the salary cap system and their rivals?
Relegation seems like the least the club should suffer, especially given that they look unlikely to have their recent trophies stripped from them. Former England wing James Simpson-Daniel told Love Sport this week that it seemed like inadequate punishment for transgressions that date back several years; he won't be the only rugby fan who feels that way.
But what about the future? How many of their stars can the club hold on to? Will any of them be happy to play in the Championship, including games against the likes of Ampthill and trips to Doncaster? Will some move abroad? How will it affect Eddie Jones's burgeoning England team? 8 of the 23 players who played for England in the World Cup Final are Saracens - as it stands. Is Warren Gatland be concerned about where his two most likely Lions captains, Farrell & Itoje, will be playing their rugby for the next 18 months?

This is a story that could continue to affect Saracens for several years to come. It is a sad end to an era of rugby dominance built on the sort of collective and community values that any team could learn from. A sad end too, for Nigel Wray, who has created the club's family feel and almost single-handedly bank-rolled Saracens to glittering success in the professional era. But it's an end that those in charge have brought upon themselves, and a reminder that even those who soar highest can fall fast if they fly too close to the Sun.
Saracens will surely be back. No one will force them to throw their medals in the dustbin. Farrell, Itoje & co. will remain integral to England and the Lions whether they stay or go. But it's hard to imagine another English rugby team taking chances with the salary cap anytime soon, after what has been a dramatic and dark episode for domestic rugby. And given that the salary cap exists to promote the very values of fairness that Sarries have so shamelessly flouted, perhaps that should give all of us - and the late Brian Clough - some small comfort.