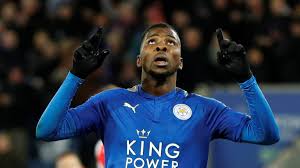 Leicester are now second in the Premier League after beating Everton 2-1.
Leicester City striker Kelechi Iheanacho looked like Zinedine Zidane when he came on against Everton, according to ex-Foxes star Matt Piper.
Piper told Love Sport Radio that Iheanacho lit up the King Power Stadium when he came on, grabbing the winner with seconds to go.
He said: "Ihenacho, he comes on, he's been really struggling and he's even been getting booed by some of his own crowd, the Leicester fans, and it was such a brilliant finish, the way he took it.
"Because it was last second everyone went crazy but the actual technique and how he manufactured the chance for himself was absolutely awesome.
"He's one of the only guys to fully celebrate twice [after the VAR decision].
"Have we signed Zidane? He came on and his touches suburb.
"He was doing touches, little flicks, that only confident players do. He came on and was worth that full £25m that we payed for him."
One of main concerns for Leicester fans, whose club is currently second in the Premier League, is the possibility of losing manager Brendan Rodgers - who is being linked with a whole host of clubs, most notably Arsenal.
But Piper believes the project at Leicester, the strength of the squad and the calibre of ownership will be enough to make Rodgers stay.
Piper told Love Sport: "It will always be a slight concern for Leicester City fans as fans this is one of the downfalls of success.
"He comes in and makes a real impact since coming in.
"He's taken the team two or three levels higher than where we were at the end of last season.
"I believe Leicester will go top four and I've been proven right so far.
"You look at the football club, the chairman, the King Power group looking to spend money.
"I can't see Brendan Rodgers jumping ship and going across to Arsenal when I think something really special is happening at Leicester City."
Tune in to Love Sport Radio for the latest exclusives.