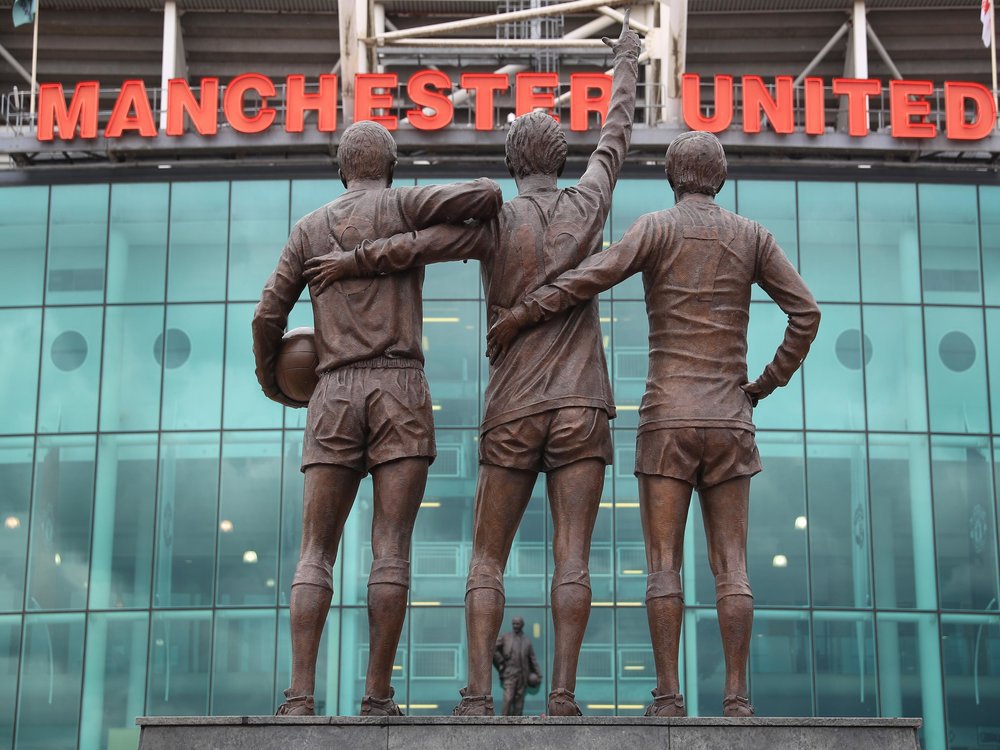 Love Sport Radio's Manchester United Correspondent Wayne Barton looks at why, in football, so little is set in stone
Two years ago, the 60th anniversary of the Munich Air Disaster brought with it a fresh spotlight on the work of the people at Manchester United following the tragedy.
Part of that spotlight went on Jimmy Murphy, the assistant to United manager Sir Matt Busby, and although that would have doubtless have been the case anyway - as it should be every year - I was proud to have played a part in it that year as my biography on Jimmy, authorised by the Murphy family, was published in 2018.
For those who still aren't aware of Jimmy's work, well, I could pay him no higher compliment than describing him as the most important man in Manchester United's history. Without him, there probably wouldn't have been a club, but even if there was, it would be far different to the institution art became.
Much of that is accredited to Jimmy's more well-known work following the disaster (David Tennant played the role of Jimmy in the 2011 television movie 'United'), although the reality is that he had much more to do with the creation of the 'Busby Babes' than many acknowledge.
Busby was the forefront figure, this larger-than-life character who embodied charm and charisma. Murphy was the man on the training ground, teaching the young players the way to play, often running on to the pitch to tackle them to toughen them up, before taking them home to introduce them to his own children.
The proud and fiery Welshman worked tirelessly at Old Trafford such was his dedication to United and devotion to Busby; his sons often joked that if there was a bed at the stadium, he probably would have slept there. A half-joke, at least.
It was Murphy and Bert Whalley who, more than any other, shaped the footballing ability of the young men who went into the United first team. When the likes of Duncan Edwards and Eddie Colman were starring for the senior side and travelling to play in the European Cup, Murphy was dividing his time between bringing in the next generation to take their place and being national team coach of his beloved Wales.
It was being on international duty with Wales which caused Murphy to miss the fateful game in Belgrade on February 5th, 1958. Wales were due to play the second leg of their World Cup qualifier with Israel in Cardiff; Murphy initially wanted to go to Belgrade, but Busby insisted he go to Cardiff, fatefully declaring that his assistant would not be able to live with himself if he didn't.
The story of Jimmy finding out about the disaster and flying out to Munich is too intensive to summarise; suffice it to say that he was tasked with 'keeping the flag flying' by Busby. From that point on he had a purpose and a direction.
He took a scratch team to Wembley to play in the FA Cup Final that season, giving hope of some form of competitive future to a club who looked at one point as if they might even close. Murphy, a deeply religious man, turned to his faith and almost served as the evangelist figure the young players envisaged Busby as. Through emotional inspiration, United were back.
In the coming years, Busby, once he had convalesced - though many wonder if he ever really did, or ever really could - and Murphy reimagined their original plans for domination on the scale of Real Madrid's 1950s team and refocused everything on delivering just one European Cup. With Bobby Charlton and Bill Foulkes starring in the team of 1968 which accomplished that goal, there was a deeply sentimental touch to the success when it finally arrived, and a certain vindication when it came to assessing the potential of those young men who perished in Munich.
It was almost proof of the journey to Wembley being a decade-long spiritual one for Busby when he retired just months after winning the European Cup. He returned after his succession plan with Wilf McGuinness went awry, finally calling it a day for good in 1971, but by then Murphy had also been edged into semi-retirement.
The Welshman was credited with spotting plenty of future Old Trafford stars; Steve Coppell and Gordon Hill in the 70s to name just two. He also discovered players United missed out on, such as Gary Lineker.
He was brought back into the fold as a more senior scout under Tommy Docherty, and when Sir Alex Ferguson was named manager in 1986, one of his first acts of business was to have lunch with Murphy, who implored him to re-sign Mark Hughes. The last player he recommended to United before his death in 1989 was Lee Sharpe.
Murphy's story has been relatively unknown although there has been a vocal contingent determined to get him greater credit for his contribution to the club's identity and even mere existence.
Ferguson told me that telling young United players about Jimmy is the "most important thing" you could do for them, in regards to informing them about the history of the club.
The club have a bust of him in their museum. Their media centre at Carrington is named the Jimmy Murphy Centre; ironic for a man who shunned the limelight and had, mostly, a passionate distrust for many reporters.
A more public and a more visual acknowledgement has been requested. Some years ago there was an attempt to rename the club's K-Stand at Old Trafford after Jimmy. A petition for it remains live and online but United have so far effectively ignored that discussion.
They have been more responsive to discussions of a statue. First of all, a club official (who had worked with Jimmy - in fairness to the club, they have always, where possible, ensured correspondence regarding Jimmy has been dealt with by someone who knew him and worked with him) responded to one letter a few years ago saying that there was a general reluctance to erect a statue as Jimmy himself would have hated the 'fuss'.
It is an official line that is hard to dispute. However, it has transpired in more recent years that the Association of Former Manchester United Players (AFMUP) have made their own requests to the club. They are not officially aligned, although they are close enough for AFMUP to use Old Trafford for their bi-annual dinners.
This writer was privy to some correspondence and discussion last year when AFMUP's request for a statue of Jimmy Murphy made the press. They had sent a letter but hadn't received a response for seven months by February last year, when a United spokesman told the Mirror : "Jimmy Murphy holds a unique and special place in Manchester United's history, which we recognised through the naming of the Jimmy Murphy Centre at the Aon Training Complex as a tribute to him in 2012".
"Whilst we have no immediate plans to extend the range of statues at Old Trafford, we are hugely respectful of the immense contribution he has made to the club."
I am told that four months later (eleven in total) United did respond. They were initially apologetic, blaming a staff reshuffle, and two meetings were held - one where one of Jimmy's sons was present. "We can't be building statues for everybody," was reportedly the phrase uttered.
It was hardly the most diplomatic turn of phrase.
The response to the club, naturally, was : "We don't want statues for everybody, just Jimmy."
From those exploratory talks about the possibility, it appears the club were only willing to part-fund it and requested that the remainder of the funds were located elsewhere. AFMUP are a charity, who do essential work for its members.
Talks hit a deadlock. There has been no progression and Jimmy is no closer to getting the statue he most definitely deserves, even if he would have been dreadfully embarrassed by it.
Other options are being explored - one proposed idea was to enlist the help of Hotel Football and perhaps house the statue on those premises, although that has not been officially discussed with the Hotel or the 'Class of 92.'
With the 62nd anniversary of the disaster approaching, the subject of a statue for Jimmy will again be raised. Perhaps the disappointing responses of the club to date will be enough to prompt them into some action.
If at least there can be encouragement from the fact there has been movement on the front in the last two years, then it should still be the case that building a statue of the great man is expedited in plenty of time for those who knew him and worked with him to celebrate.
To learn more about Jimmy Murphy's contribution to Manchester United, tune in to the first episode of "Barclay and Barton on Manchester United" on Saturday at 10pm.