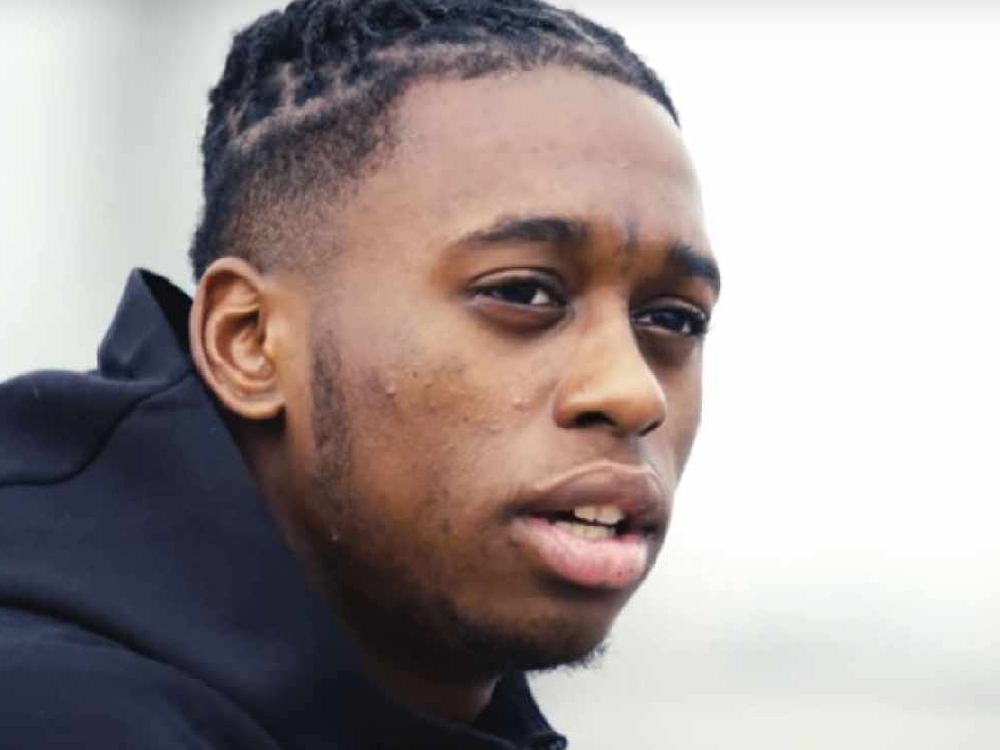 Love Sport Radio's Manchester United Correspondent Wayne Barton looks in to the brilliance of Aaron Wan-Bissaka
There were few positive points to take from Manchester United's humbling against Manchester City, and fewer still were the number of reputations of players in red shirts which were enhanced.
However, Aaron Wan-Bissaka could at least claim to have come out with his standing intact after another impressive display against Raheem Sterling.
England's best player has something of a career hoodoo when it comes to scoring against United and that task has been made harder for him by the arrival of the former Crystal Palace full-back who followed a fine performance at the Etihad in December with another in midweek.
It marked not only the continuation of a fine debut season for Wan-Bissaka, but confirmation of a strong mental recovery for the youngster who conceded a penalty to Watford before Christmas. The word languid was usually exclusively reserved for sentences in which Dimitar Berbatov is mentioned (so this, then, technically is no exception) but it could be used to described Wan-Bissaka's tackling style.
That error at Vicarage Road has been confidently dealt with, as the second of United's summer of 2019 signings continues to be the most impressive of the players Ole Gunnar Solskjaer brought to the club last year.
The recovery is symptomatic of the youngster's character; his former youth coach at Crystal Palace, ex-centre-half Richard Shaw, believes Wan-Bissaka has already adapted to life in Manchester.
"I haven't seen every single game, but I try and watch every live game because of Aaron playing there," Shaw says. "United are one of the biggest clubs in the world so any player would find a move there difficult, but Aaron has such a good temperament and he takes everything in his stride. I think he's settled in with the level and he's doing well, but I'm sure he will improve even more once he's used to the style of play and the standards that are expected at Old Trafford."
Wan-Bissaka has had to learn in a harsher spotlight than most might expect. Not only has he had to play alongside a senior defender in Victor Lindelof who seems low on confidence, elsewhere in the back-line there has been Harry Maguire's arrival — who appears to demand a certain shape when it comes to his own positioning and how that impacts the defence — and the well-documented problems at left-back.
"United are in a transitional phase, it's a new manager and a new team and that brings difficulties as well," Shaw says. "Having a consistent defence alongside him will make a world of difference as it does to any defence. Arsenal's great defence in the 90s rolls off the tongue. United had Parker, Bruce, Pallister and Irwin who never seemed to miss a game. Even in my days with the mighty Crystal Palace when we came third, we had me, Andy Thorn, Eric Young and John Humphrey. We were settled and understood our role. There's a saying, defenders win leagues, forwards win games."
With that in mind, then, perhaps the best one can expect is that a player comes in and plays his natural game to the best of his ability. That is one thing that can be said for Wan-Bissaka. His defensive ability has been close to immaculate, and United's woes down that side in recent years have practically been eliminated completely.
"His main strength is his defending one-on-one," says Shaw. "If he's marking a winger and his task is to stop him getting past and stop the crosses, I think Aaron is as good as anyone. Even when he was a winger at Palace in the under-16s I think he enjoyed the defensive battles more than going forward! I always used to joke that he was like the old cartoon character Inspector Gadget, and that he had 'Go-Go Gadget legs'! You think you've got past him then all of a sudden one of those long legs comes back at you to take the ball."
United have struggled, since selling the popular full-back Rafael, to protect the right-hand side; Matteo Darmian came in as an experienced Italian international but he has already left after failing to adapt to Premier League football. In recent years, Louis van Gaal and Jose Mourinho used veteran wingers Antonio Valencia and Ashley Young at right-back; and, dependable servants though they were, their natural lack of defensive nous was often exploited.
"The most important job is doing his defensive work because if you're letting in goals on a regular basis you're not likely to be winning many games," says a man who played that role with distinction - former United full-back Paul Parker. "So stopping the attacks, as he has been doing, is the job he's paid for. If he gets over the halfway line and delivers crosses for chances, that's a plus."
We'll deal with that growing criticism in a moment; let us take a second to fully appreciate the form of 'Go-Go Gadget', who had settled into life at Old Trafford so swimmingly that, ahead of December's Manchester derby at the Etihad Stadium, Sterling v Wan-Bissaka was identified as a key battle. United's triumph on the day was thanks in no small part to a man-of-the-match display from the new defender.
"I thought his performance against Raheem Sterling in the Manchester derby in December was excellent," Shaw says.
Some of his tackles in the derby were reminiscent of Paul McGrath or Des Walker; seemingly beaten, only to wrap one of those telescopic legs around Sterling to thwart him again.
That tackling style was always likely to come at a cost at some point; it came at Watford, when Wan-Bissaka brought down Ismaila Sarr for a penalty. But some perspective should be exercised, reasons Parker : "You can't make as many tackles as he does without eventually giving a foul or penalty away. Especially these days with players looking for penalties. But he's recovered well."
That recovery has come amidst the backdrop of growing discontent at Old Trafford and, in some critics' pursuit of picking holes in the work Ole Gunnar Solskjaer has done, even Wan-Bissaka has found himself the subject of some over-the-top comments about his game.
Despite plugging a hole - a leaky one at that - in a porous defence, some observers suggest the £50m signing from Palace should offer more going forward. At the same time, the form of Trent Alexander-Arnold at Liverpool has skewered perspectives and expectations. Conversely, there are those who believe Wan-Bissaka is more competent defensively than his rival for the England team.
"Full-backs are so important to the top teams these days," Shaw explains. "They have to be able to do so many things - pass, cross, attack. But first and foremost they have to be able to defend and I think that's what Aaron does best.
"I do see that (idea that Aaron is better defensively than Trent), but they are different types of player as well. We're blessed in England with so many good right-backs and for me Aaron and Trent are up there as good as any. Aaron will play for England, of that I'm sure."
Parker re-iterates that it is important to remember the primary duty of his role. "People want to see him do a little more offensively and I'm sure that will come, I'm sure there will be some dedicated time to work with him on crosses," the former England and United player says. "When it comes it will be a bonus on what is already for me the best defensive right-back in the Premier League."
That work has already been something the youngster has been putting in, going back to his days at Palace.
"There's always a satisfying moment as a coach when a player starts asking you questions and starts asking to do extra work," says Shaw. "Aaron was at that point, he was asking for extra training in the afternoon so he could go back out and work on his crossing. As a coach that's brilliant because you understand a player is really determined to improve."
"He does have some areas he can work on to improve. Once he is more confident and more experienced, the more he gets to learn the movement of his team-mates, I think it will improve no end. He worked hard on that side of his game when he was at Palace. We always made sure we worked with him on extra crossing sessions.
"The more he gets in those areas, the more I'm sure things will come off for him. I'm pleased to see that he does seem to be getting in those areas at United with some frequency. Sometimes he hasn't always delivered the final pass, but we saw against Newcastle over Christmas that it is in his locker. And he hasn't really shown it yet, but he does have a trick, he does have a turn of pace."
As Shaw says, the more familiar he becomes with his new team-mates, the more involved he will become, and Solskjaer this week acknowledged the importance of the process of acclimatisation in how his new defender is contributing.
"You have to find the ideas and there is not a lot of space between the lines," the United boss said before the derby. "We are improving. We have ball-playing centre-backs, we play full-backs higher up. Aaron has been freed more to go forward; for example the cross against Newcastle."
It could be said that the ease with which Wan-Bissaka has adapted, and the high level of consistency he has shown, has made some effectively dismiss the importance and significance of that contribution. Indeed, a popular idea floating around some observers is that, particularly in light of Lindelof's struggles, the full-back might actually move into the middle.
Such a repositioning would come as a shock to the coach who has already helped the player through one such change.
"I've heard it said once or twice and to be honest, I'd probably be surprised if that happened," Shaw says. "I know Gareth Southgate had Kyle Walker playing on the right of a three and maybe Aaron could play a role like that but I personally have never thought about him playing in the middle. Aaron does think defensively but there are differences to playing at right-back and at centre-back.
"As a centre-back you are only concentrating on defending for the entire game; in terms of heading and positioning I just think Aaron is more suited to right-back. Usually in the middle it is better if you are a talker, Aaron is a bit on the quiet side so I think it's perfect for him to have a talker next to him."
Certainly, it would seem Ole Gunnar Solskjaer is fighting enough fires at Old Trafford without creating another issue. Wan-Bissaka can most definitely improve, but the way he has competently extinguished one of those fires is a testament to the impressive way he has started life at Manchester United.
Listen to the Manchester United Fans Show, every Sunday night at 8 PM on Love Sport Radio