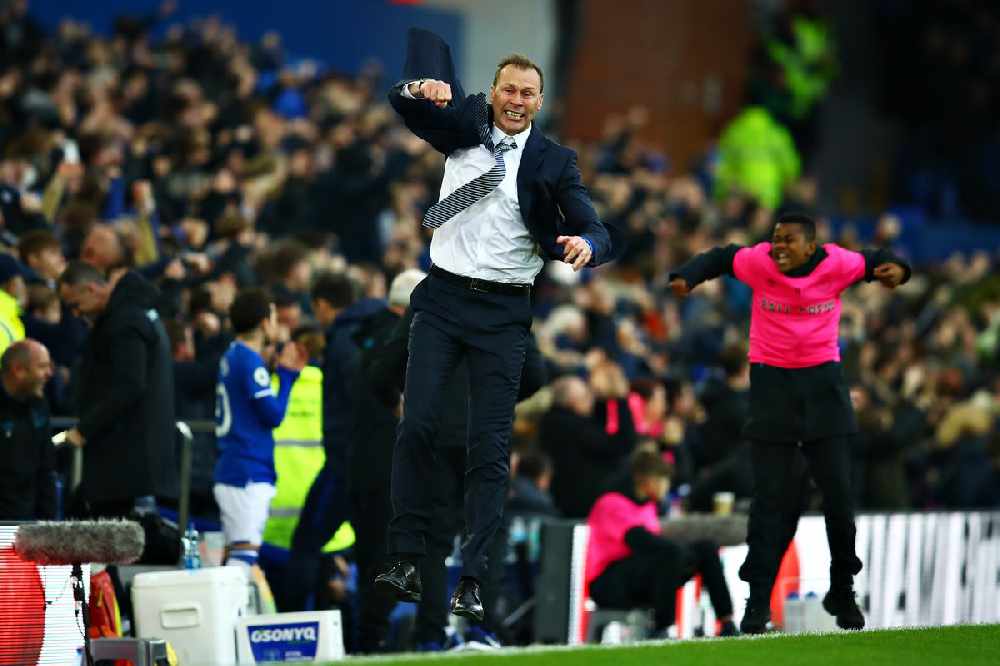 Allen thinks Ferguson can bring happiness to blue half of Merseyside.
Everton have struck gold with Duncan Ferguson and he's the man to bring happiness back to the blue half of Merseyside, according to vastly experienced manager Martin Allen.
Ferguson's Everton beat Chelsea 3-1 at the weekend following the sacking of Marco Silva after a dismal run of results that has seen them slump to 14th in the Premier League table.
Allen, speaking to Love Sport Radio, said the Everton players put a shift in for their interim manager.
He said: "We saw it on their performance. They ran miles for him.
"They tackled. They put their bodies on the line. They defended as a unit and both wide players tracked back and defended.
"That's things we've been brought up on in our football and of course over the years with the introduction of European and South American coaches it's changed and lazy players who can just walk back and find pockets for when they regain possession and counter attacks are allowed to exist.
"So it has changed massively but watching that Everton team, my gosh, they've tried Martinez, Koeman, Silva and I think they could strike gold if they just give it to Ferguson and let him have it and let him rip and bring some happiness to that blue side of Merseyside."
Allen was less positive about Manuel Pellegrini's time at his former club, West Ham.
He told Love Sport Radio: "Without any hesitation - they're in trouble.
"I don't think there's enough 'grind it out' players.
"Declan Rice and Mark Noble have done ok.
"Cresswell has gone ok but that was a big blow for him coming off last night.
"Can he do it as a manager to get them out? He seems to be a nice guy but I'm. Not sure he is the man to turn it round."
Allen continued: "When I say defending as a team, what I mean is that when you lose the ball all your players have got to come back in and defend like Liverpool and Leicester do.
"I don't think West Ham have got those traits. It all wants to be with the ball and not always without the ball."
Tune in to Love Sport Radio for the best exclusives.