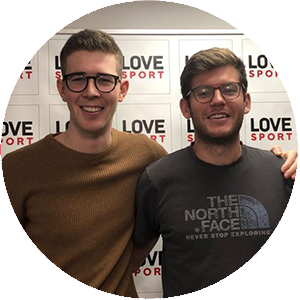 Loving Sport on: Posh Boys on Drive
Otherwise known as Guy Watts and Johnny Burrow, our Posh Boys guide you through every weekday, from 3pm to 7pm.
Self-admittedly the "less funny, less attractive half" of the plummy pair, Guy is a dedicated follower of the England cricket team, but more an avid fan of almost every sport, including darts, snooker & hurling.
He doesn't currently have a girlfriend.
Johnny (not Jon, Jonno nor Jonathan), meanwhile, went to Cambridge. And uses really big words.
Radio has never been more informed.