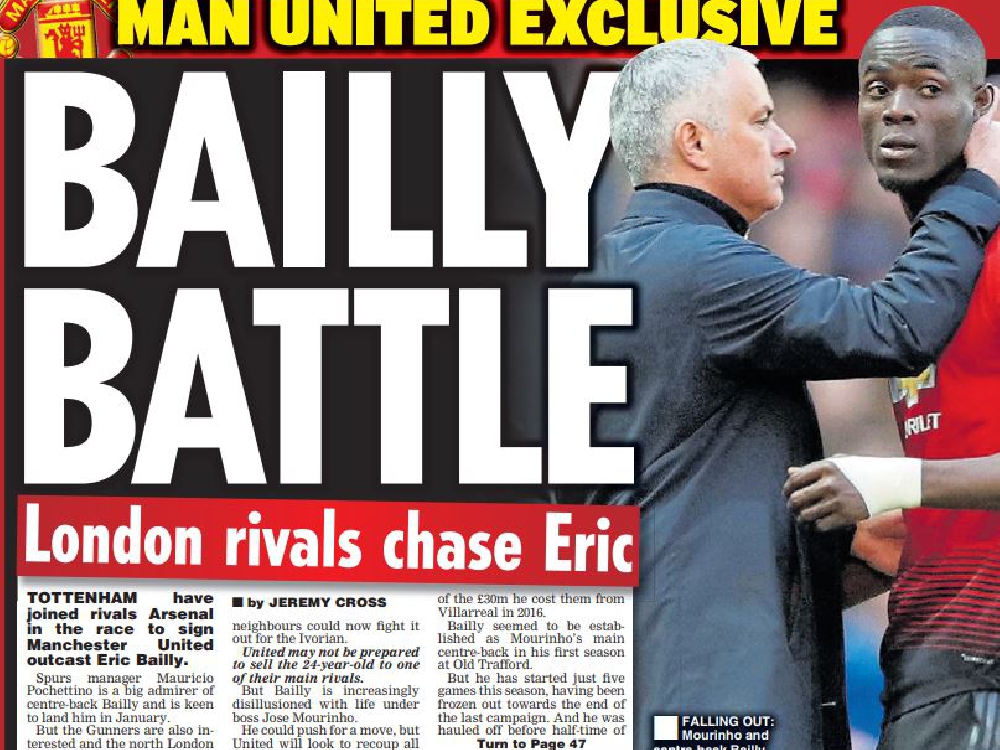 Transfer gossip is back, listing and assessing all the biggest rumours from the Premier League so that you don't have to.
Tottenham want Bailly
Tottenham are hoping they can offer Eric Bailly a way out of Manchester United in January, according to the Daily Star.
Bailly was dragged off after just 19 minutes on Saturday with manager Jose Mourinho preferring to play midfield youngster Scott McTominay at centre-back than allow the 2-0 deficit to grow bigger.
The ex-Villarreal defender was Mourinho's first United signing back in 2016 but now appears to have well and truly fallen out of favour at Old Trafford.
Now Spurs, who have lost Jan Vertonghen to a hamstring injury until the end of the year and look dangerously short of depth in central defence, are hoping to capitalise on Bailly's demise under Mourinho and pick him up in a cut-price January deal.
Love Sport verdict: If Tottenham ever want to go back to playing three at the back, they need more cover at centre-half. Even playing four at the back, they need more than three dedicated centre-halves and Bailly could be a real cut-price signing if he has fallen out with Mourinho but remains a top player.
⚽️| OUR CHAMPIONS LEAGUE AMBITIONS NEED TO BE REALISTIC@LeeMcQueen told @RickSpur from @LastWordOnSpurs & @mediaAaron that @SpursOfficial fans @ChampionsLeague expectations need to be realistic after the uproar caused by their defeat to @FCBarcelona.

Thoughts #THFC fans ? pic.twitter.com/dPGgPKFmfy

— LOVE SPORT Radio (@lovesportradio) October 10, 2018
Atletico defender turns down United
Lucas Hernandez turned down Manchester United after they met his £70million release clause, Spanish newspaper Marca claim.
Jose Mourinho wanted to sign a central defender over the summer but was frustrated in his efforts to sign Tottenham's Toby Alderweireld.
Marca claim Real Madrid and Man City have also made offers - but Hernandez has repeatedly turned them down.
"I hope to stay at Atletico for a long time," Hernandez said earlier this week.
"But hey, you know that football moves very fast and if an offer came up that was too good to refuse... "
Love Sport verdict: United need a defender, Hernandez sounds like he wants to move - so why is he saying no? It's probably a bit scary for United fans that he still found a reason to turn down Old Trafford.
😡 | NO HOLDING BACK FROM JULES

Former Manchester United winger @Jules11Maiorana let loose on the Mourinho situation. pic.twitter.com/WCmyww4K2U

— LOVE SPORT Radio (@lovesportradio) October 11, 2018
Samir Nasri is back?
Samir Nasri is still serving an 18-month ban after testing positive for a banned substance but the Daily Mail say Everton are considering a move when he becomes eligible again next month.
Nasri made 210 appearances for Arsenal and then Manchester City in the Premier League, winning the title twice and the League Cup.
But the Frenchman fell out of favour at City and was loaned out to Sevilla, during which time he took an IV rehydration drip at a clinic in LA, which turned out to contain banned micro-nutrients.
Love Sport verdict: Nasri developed an unfortunate habit of bringing controversy with him wherever he went during his later years in England - I'm not convinced Everton would want to pay the wages he would command for the problems he might bring.