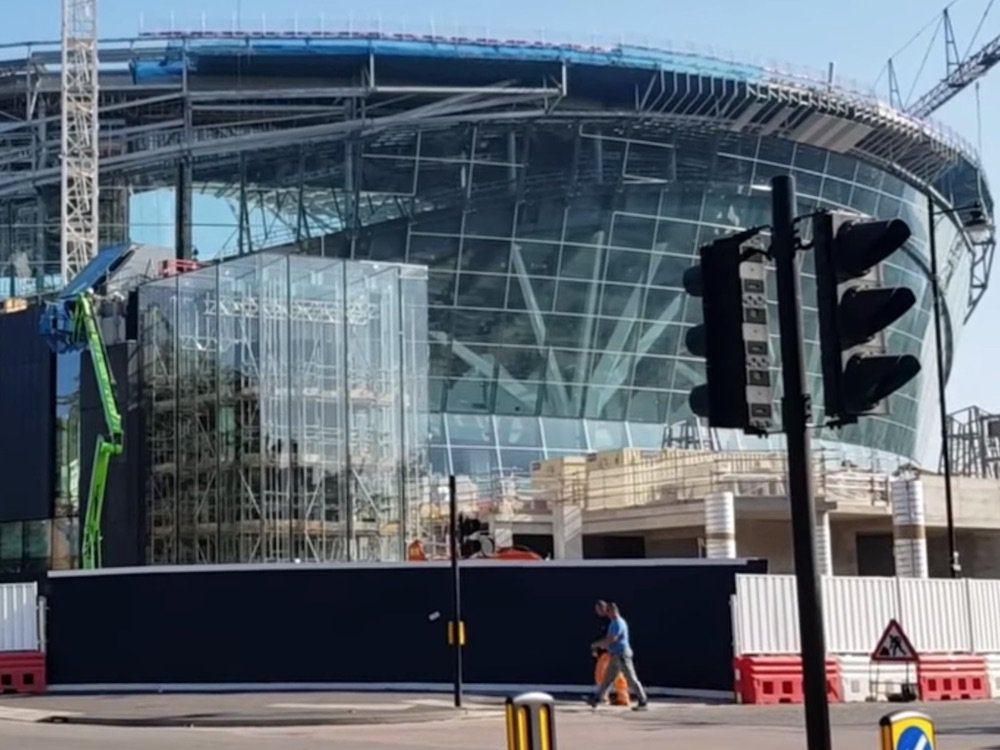 Tottenham's new stadium remains under construction on the site of the old White Hart Lane
Tottenham Hotspur Supporters' Trust board member Martin Buhagier has expressed his frustration at the lack of information supplied to fans over the delays to the construction of the new stadium.
Love Sport Radio today exclusively revealed that the new Tottenham stadium will not be ready until spring next year.
A source from inside the construction process said that the in-stadium sprinkler system, which is activated in the event of a fire, has hit problems and will not be finished until March next year.
Only then can test events be conducted before the stadium is finally signed off as fit and ready for full-scale matches, which will end Spurs' spell playing at Wembley.
But Buhagier was critical of the manner in which the delays, which only emerged over the summer, have been handled by the club: there is still no official opening date.
"It's just not good enough," Buhagier told The Brian Moore Show just minutes after the news was broken.
"This has been our case from start to finish: that when it became clear that there were issues that the new information that has been given to supporters just hasn't been good enough.
"If you remember the very first time, they announced the stadium would be ready for the Liverpool game, or even the Fulham game.
"The club had to issue another statement almost immediately because the first statement was almost geared towards the NFL rather than the supporters that will be filling the stadium, the supporters that have paid hundreds of pounds, more than thousands in some cases on season tickets already for this stadium with the likelihood that we won't be in there by the end of the year.
🤦 | THIS IS JUST TYPICAL SPURS@Martin_Buhagiar from @THSTOfficial told @brianmoore666 & @jamestingray that Spurs' delay moving into their stadium is just the same old Tottenham.

🤔 | What do you make of the new setback Spurs fans?

📻 558 AM/DAB
📲 https://t.co/XWhRQgRLH7 pic.twitter.com/SaFUTokNgD

— LOVE SPORT Radio (@lovesportradio) September 13, 2018
"It's not good enough and all we want is information.
"We understand this construction, we understand it's complicated, we understand it's ambitious.
"But when something like this goes wrong it's important the club tells supporters as early as possible because it's just been a nightmare."
The latest delays have seen Tottenham forced to move their Carabao Cup home tie against Watford to Stadium MK in Milton Keynes and rearrange a Wembley clash with Manchester City due to an NFL fixture at the stadium.
"Until we hear it confirmed by the club as a supporters' trust we'd have to be careful about what we say," Buhagier added
"But I mean from the news you're giving us if that turns out to be the case it would be deeply, deeply disappointing.
"We're just rolling on from one nightmare to the next at the moment.
"The fact that we're going to watch Liverpool at Wembley on Saturday is bad enough for some.
"The fact that we're playing a cup game at Milton Keynes is another aspect that has just angered fans.
"I think when the club announced that the Man City game wouldn't be at the new stadium, there was a line in that statement that said there is a chance that the stadium could be ready for Man City but we had to move it because the Premier League want clarification on where we'll be playing.
"Obviously Man City fans had to make plans. So that has given a lot of supporters hope that obviously if it's not Man City it will be the next game.
"So if it turns out there will be further delays again and it's another case of the club not being clear with supporters and that line, that one little throw away line in the statement on the Man City game the stadium might be ready for this game but we can't take chances so we're going to play it at Wembley it just made so many fans think it would be the next game which is Chelsea.
"We then heard that the authorities, the Metropolitan police, completely understandably, wouldn't want the first game at the new stadium to be a big London derby. We get that."
He also said: "There was so much excitement towards the end of last season finishing third and Spurs fans at the last game of season at Leicester [singing] 'we're going home, Tottenham's going home', you know build up to the World Cup.
"There was just a really nice feeling that Wembley's been good, better than we thought, but now we're going back to White Hart Lane which is what we'll always call it.
"And all the signals from the club were that, yes, this is what's happening and every time there's a bit of excitement that 'ok, it's not going to be the Fulham game, it's going to be Liverpool.
"'Ok it's not Liverpool, it's Man City' and then that's taken away.
"Then 'ok, we'll play a Champions League game there, champions group stage there' and then we don't.
"It's just every single time we move on the rug is pulled from underneath our feet.
"It's deeply disappointing and as you say, you're breaking this news, from a supporters' trust perspective we'll be trying to get confirmation from the club, trying to get clarification for what that means for supporters, what steps will be taken if that is the case and unfortunately we're not going to hold our breath because we don't know what kind of information we're going to get back from the club."
"Spurs held a few stadium community business liaison meetings and I sat on a few of those with members of the club and businesses and we've had board to board meetings with the Spurs board in the last year.
"I do believe genuinely that they thought we were going to be in, that they thought it would be done for the start of this season.
"But I think when something does go wrong, did go wrong, when it happened that the message should have been given clearly and concisely at that point and if that meant if you say and if that means we're not going to be in there until Christmas, until March, at all this season, exactly as you said the message needs to be given to fans so we know exactly where we stand.
"This idea that we think we're going to get a game, every time we think there's going to be a match at the new stadium we're then told its not happening.
"It's happened three times now and it cannot happen again. Next time the club say 'this is going to be the first game in the new stadium' it has to happen and I understand there's reasons why they can't give that information out but there must be a ballpark figure.
"They must be able to confirm one way or another that March [is or is not a realistic date] and obviously we're hoping that they come back and say 'no, it's before Christmas'."
But according to Buhagier, Spurs fans are not unaccustomed to the every silver lining finding a cloud.
"This is one of the things we have to live with at Tottenham!" he said.
"If things are going well off the pitch, things go bad on the pitch and then when things are going wrong off the pitch, they're going right on the pitch.
"I remember when we won the FA Cup in '91 we had Gazza - and the club was going bankrupt, Alan Sugar bought us out, we were nearly in danger as a club.
"We were doing well on the pitch when we won the FA Cup but we nearly had no club and now the club going forward finished third, we're in the Champions League, we've got Barcelona which will be exciting, which should be wonderful, we have a great team who we identify with and we've got all this stadium business going on.
"It's just typical Spurs there's always we have to suffer at some point along the line.
"It will be nice when it's all done and fingers crossed we can hold on to that team and have a successful team in that stadium."
Catch The Brian Moore Show every weekday from 3pm until 7pm for more great sporting exclusives