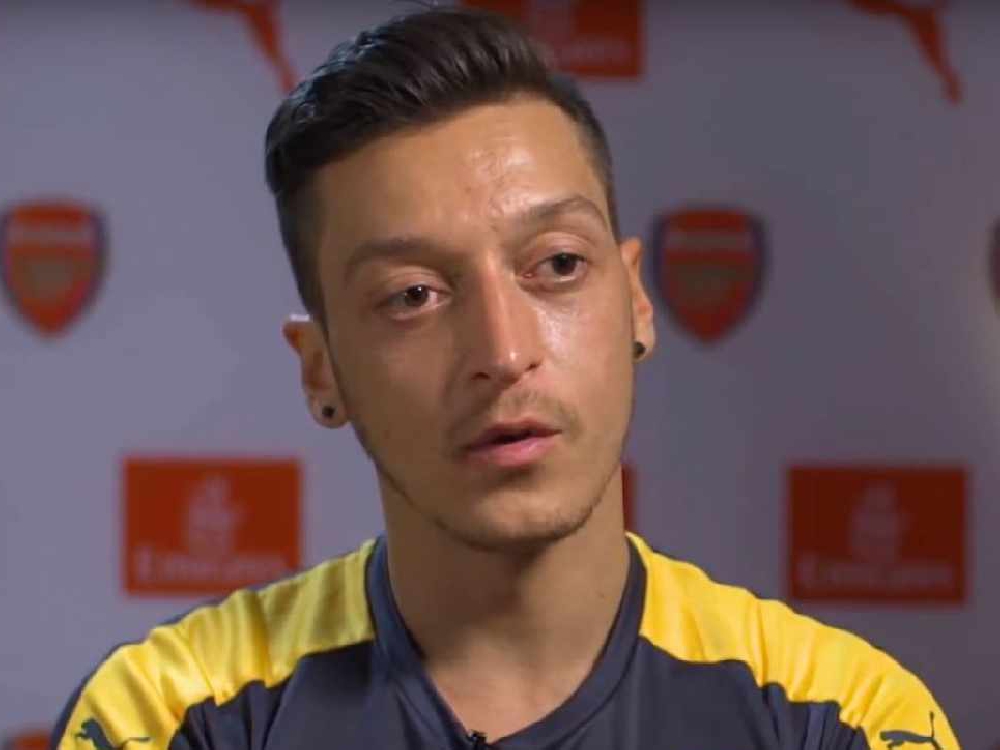 Mesut Ozil has played a perfect hand at Arsenal to win his enormous contract with the club in disarray, according to one ex-Gunner.
Ozil's current deal runs until 2021 and he is paid a reported £350,000 a week, making him Arsenal's top earner of all time.
However, the Germany international was not even in the squad when Arsenal were beaten 1-0 by West Ham last weekend and has fallen out of favour under new manager Unai Emery.
But former Gunners goalkeeper John Lukic struggles to blame Oil for negotiating the best possible contract in the wake of Alexis Sanchez's departure.
"He actually played the cards that he got dealt very well," Lukic told Love Sport's Weekend Breakfast (Saturdays and Sundays, 8am to midday).
"Sanchez and him were both due out of contract and he sat tight while Sanchez decided he wanted to go to Manchester United which he did and which left Ozil in a fantastic position to say 'pay me what I want or I'm off as well'.
"At that time, it seemed as though they couldn't afford to lose both so he ended up with a nice contract."
Arsenal were backed into a corner over Ozil's contract to avoid losing him on a free transfer, just as they will Aaron Ramsey this summer.
The Welsh midfielder looked set to sign a new deal at the beginning of this season but the contract is said to have been withdrawn.
Lukic added: "I find Ramsey going strange. Whether or not that is down to financial demands I don't know but I do find it strange that they're just letting him walk out the door."
Instead, Ramsey is understood to be closing in on a move to Serie A champions Juventus and the trouble will not stop there.
Head of recruitment Sven Mislintat, brought in last year to help move Arsenal beyond the Arsene Wenger era, is expected to leave the club over a power struggle and academy manager Per Mertesacker was criticised by ex-player Martin Keown over his decision to miss an FA Youth Cup game to watch an NBA game in London instead.
"You look at the basics like Per Mertesacker going to a basketball game instead of doing his job if you like. It encapsulates a little bit of what's going on and how much people buy into 'the Arsenal'," Lukic also said.
"You had these things, certainly when I was there, an unwritten code of ethics that people tried to look up to.
"A lot failed but they were there right down from the chairman and through the staff.
"That just doesn't seem to be there at the moment. Whether or not I've got it wrong I don't know.
"Then you've got the talk of the director of football moving on and somebody else coming in which means there doesn't seem to be a great deal of stability.
"Now whether or not Emery is getting the free rein to implement the things that he wants to do, I don't know.
"The owner is quite aloof. We don't see a lot of him and we don't seem to hear a lot from him. That starts breeding questions."
Arsenal face Chelsea today in a crucial Premier League clash at the Emirates and here's what Steve Sidwell had to say on the clash yesterday on The Brian Moore Show.
Former Arsenal & Chelsea midfielder Steve Sidwell (@sjsidwell) thinks the players' individual quality is what will decide tomorrow's clash at the Emirates

📻 Tune in - 558 AM/DAB
📲 Listen - https://t.co/XWhRQh9myF pic.twitter.com/QR9Q9WkSAz

— Love Sport Radio (@lovesportradio) January 19, 2019