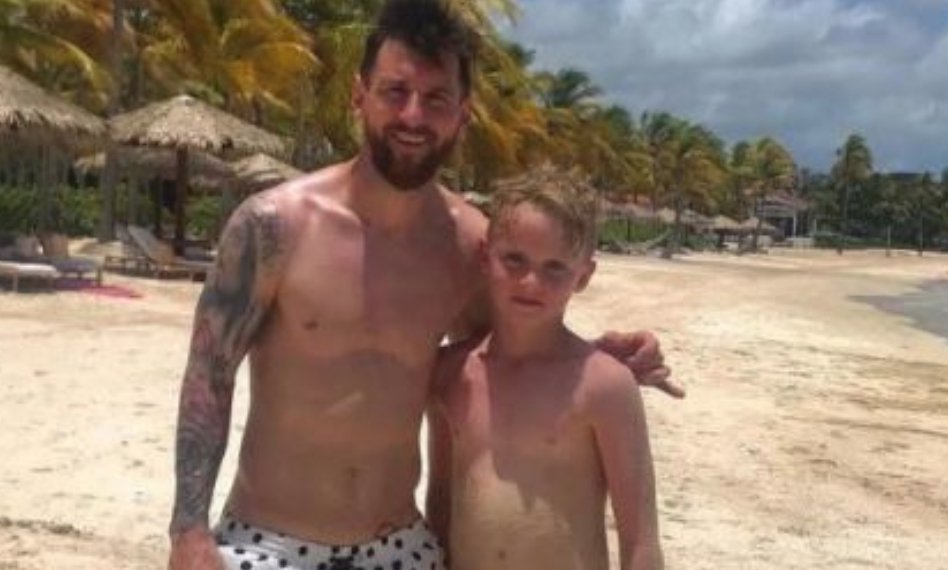 Messi has kickabout with 11-year-old British lad in Antigua
The GOAT is class on and off the pitch.
Can you imagine having a casual kickabout with Lionel Messi? Well, an 11-year-old lad from Canterbury did just that - and he even managed to get a transfer scoop in the process!
Mackenzie O'Neill was on holiday with his family in Antigua when a man asked him to join in with a game of football.
That man turned out to be 'The GOAT', who was playing with his son, Thiago.
Mackenzie, a Manchester United fan, couldn't help but ask Messi if he would ever leave Barcelona and the Argentinian forward ruled out any move away from the Nou Camp.
Speaking on Love Sport Breakfast with ex-Watford and Brentford goalkeeper Rich Lee, and Patrick Christys, Mackenzie said: "I asked him if he was going to leave Barcelona and he said no."
🔵🔴 LIONEL MESSI TO STAY AT BARCELONA FOR HIS ENTIRE CAREER

The Barcelona captain revealed to Mackenzie O'Neill during their game of beach football in Antigua that he has no plans to leave the club any time soon.

📞 WhatsApp - 0208 70 20 558
📲 Listen - https://t.co/XWhRQgRLH7 pic.twitter.com/GrZRI1M3fk

— Love Sport Radio (@lovesportradio) July 24, 2019
And it turns out Messi is absolutely class off the football pitch as well as on it.
Mackenzie's mother, Anna, told Love Sport: "When I heard there was a famous footballer on the beach I thought 'oh no, here we go'.
"I was thinking there's going to be a huge show-off, champagne corks flying off...but it's the absolute opposite.
"He's a nice family guy, very attentive to the kids and his wife. They're all just normal, adorable people.
"He was absolutely lovely."
🗣️ "I thought he was going to be huge show off"

Anna O'Neill, mother of the 11-year old who ended playing Lionel Messi on a beach in Antigua, was amazed how humble the Barcelona captain was.

📞 WhatsApp - 0208 70 20 558
📲 Listen - https://t.co/XWhRQh9myF pic.twitter.com/sPkTZ3zoo6

— Love Sport Radio (@lovesportradio) July 24, 2019
Mackenzie, who plays as a goalkeeper for Faversham Strike Force FC, managed to keep a clean sheet against the Barcelona goal machine - an achievement very few 'keepers have managed!
The schoolboy even showed Messi a thing or two - 'I almost nutmegged him', Mackenzie said.
They say you should never meet your heroes, but it turns out that rule doesn't apply to Mr Messi. What a legend.
Click here to listen back to the Love Sport Breakfast Show with Rich Lee and Patrick Christys.