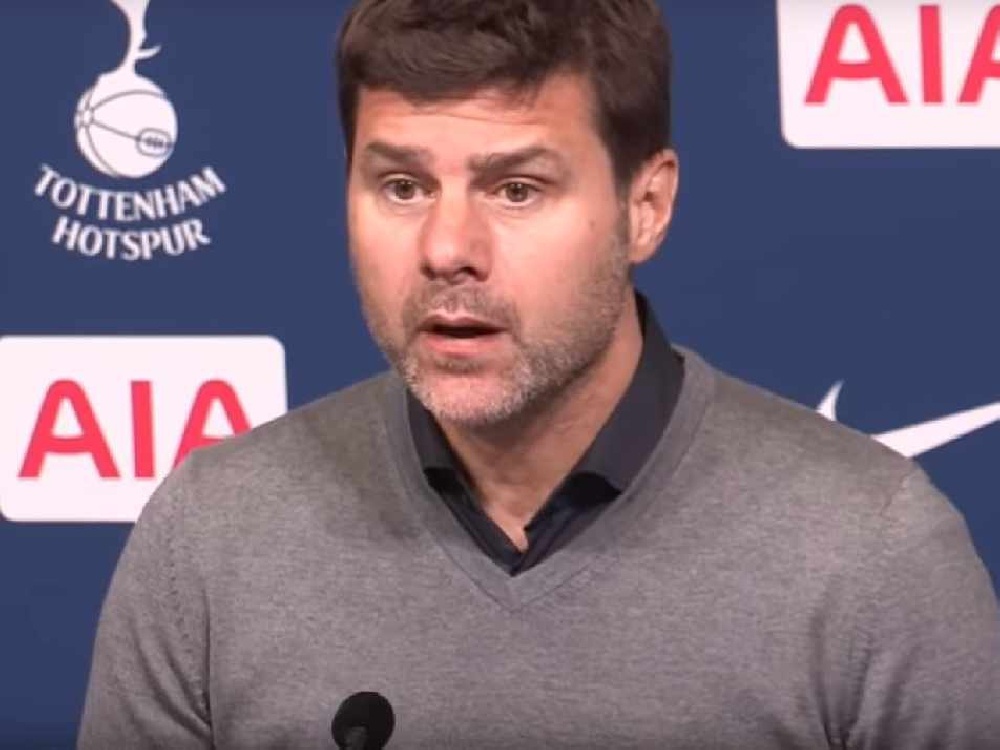 Paul Miller reckons Mauricio Pochettino is happy at Tottenham and he will rebuff the approaches of Real Madrid.
Pochettino's side were beaten 1-0 by Manchester City at Wembley last night and are now fifth in the Premier League 10 games into the season.
More worryingly they are staring down the barrel of a Champions League group stage exit and the opening of their new stadium has once again been pushed back, this time to 2019.
And with Julen Lopetegui having been sacked by Real Madrid last night, national media in the UK are today claiming that Pochettino is top of the list to replace him.
But Miller, who was part of the last Tottenham side to win a major trophy back in 1984, reckons Spurs fans do not need to worry about losing their Argentinian boss.
⚽️ | HAS POCH DEVELOPED SPURS?

Former @SpursOfficial midfielder Michael Brown joined @LastWordOnSpurs, @Daily_Hotspur & @mediaAaron and told them how far he thinks his former side have come since Pochettino arrived.

Thoughts, #Spurs fans?@RickSpur @JamieBCoys#THFC #COYS pic.twitter.com/mOiBO5tCBF

— LOVE SPORT Radio (@lovesportradio) October 26, 2018
"Mauricio is one of the best coaches and managers in the world so any time a top job comes up - whether it's Manchester United, Real Madrid or Barcelona - his name is going to be put at the top of the list," Miller told Ian Stone's Comedy Breakfast (weekdays 6.30am-10.30am).
"He's fine where he is. He's got a long contract and he's got all his staff around him. He's a workaholic, he's there from eight in the morning until six at night and he only lives down the road. All the things are there.
"Do I know what he's thinking today? No - he'll be low today because he hates losing.
"Real Madrid is one of the best and biggest jobs in the world so of course he'll be interested but I don't think it's for him. I think he's going into the new stadium with us. He's in on the project.
"It's scare-mongering really. It happens three or four times a year! He's been leaving us dozens of times in the last couple of years.
🚨 BREAKING NEWS 🚨

Dele Alli has signed a new contract that will keep him at Tottenham until 2024. pic.twitter.com/ess3iYR9hG

— LOVE SPORT Radio (@lovesportradio) October 30, 2018
"He ain't going anywhere in my opinion. He'll manage with what he's got. He's fine with it.
"Players have come back from injury, no-one left and we're alright. You'll see tomorrow night that the team at West Ham will be a pretty strong team."
Tottenham had the chance to go third in the league last night but went down to an early Riyad Mahrez goal as the champions City earned all three points in north London to return to the summit of the Premier League.
But Miller believes that even with the wildly different levels of investment in the two starting XIs - Spurs did not make a single signing this summer - Tottenham were more than competitive.
"We're talking about [City], one of the best teams in the world," Miller added.
"They're arguably the richest club with their sovereign fund and unlimited money to spend. We more than matched them.
"If we took our chances, it could probably have been two-all. But we had some great opportunities to score first and second half and the officials got it wrong I think once or twice.
"But it was a good performance. I saw a lot of progress last night as well as last Wednesday against PSV. I think we're getting back to what we were doing last season. It looks good."
Catch Ian Stone's Comedy Breakfast every weekday morning from 6.30am for more great sport exclusives