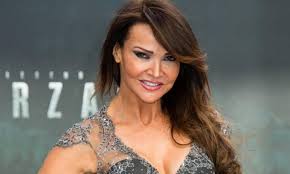 Coleen isn't the only one having stories leaked to the press
Twitter erupted after Coleen Rooney posted a statement alleging that someone on Rebekah Vardy's account had been leaking stories from her private Instagram to The Sun.
But Coleen isn't the only victim. Former WAG Lizzie Cundy told Love Sport Radio that she's fallen prey to social media leaks, too.
"It happened to me. A very close friend, former WAG happened to me. I didn't go down the Coleen route and do it publicly, but I deleted them from my phone, all my social media and cut them out of my life entirely. It's really sad".
Cundy wasn't pulling her punches on WAGgate - saying that leaks of this kind sometimes take place in exchange for favourable treatment from the press.
"I was so shocked when I saw! I know both girls, I'm friends with them both. Why would Becky do this? She doesn't need the money, she doesn't need the fame, she's got a wonderful life style - why on earth would she do it?"
"My only thought is to get good headlines and brownie points from certain journalists. I can't think of another reason".
And, despite offering her service as WAGony aunt to help reconcile the two, Cundy seemed to side with Rooney.
"She [Coleen] would never have posted this an outed someone unless she had concrete proof".
"I know if anyone's on my account, if there's anything untoward going on, I definitely notice. I'm pretty sure you'd know. That's all I'm saying".
Above all else, the message was clear:
"Don't mess with Coleen Rooney".
Listen to Love Sport Radio on DAB Digital Radio, Online, smart speaker on via the Love Sport Mobile App.