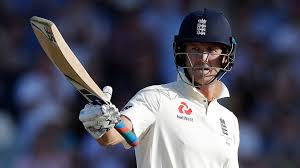 Should one of them be dropped?
Fresh off the back of a sensational victory at Headingley, the England cricket team have decided to swap Joe Denly and Jason Roy in the batting order for the Fourth Test.
And former England Bowler Gus Fraser told Love Sport Radio that he's not convinced by the decision.
"I'm not convinced by the decision to swap Denly and Roy. I suppose they want to show faith in the batsmen they've picked, but while Joe scored an important fifty in that second innings up at Headingley, he hasn't given concrete evidence that he can cope up there".
"It's going to be tough against the Australian bowlers".
"And equally can you be sure that Roy is going to score runs at four? Yes, there's a bit of protection from the new ball but equally the Australian bowlers are going to come at you hard, and the slips will still be in place".
While Fraser said he understands the decision, he suggested that the selectors might have been better off making an outright change to the lineup.
"I can understand why they've done it. They want to give the blokes who played in that game another opportunity. But I wonder whether they might have been better off bringing someone like Pope in. He looks a more natural test player than Denly".
"It looks a bit like we're trying to force square pegs into round holes at the moment".
Listen to Love Sport Radio on DAB Digital Radio, Online, smart speaker on via the Love Sport Mobile App.