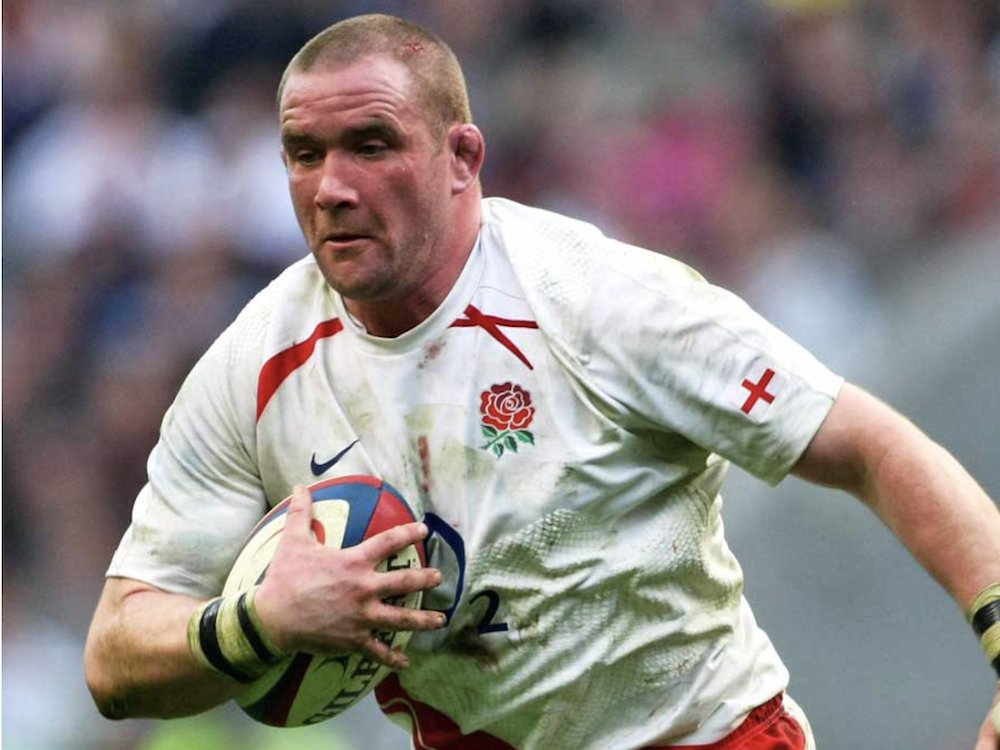 He thinks England can beat New Zealand on Saturday.
Rugby World Cup winning legend Phil Vickery gave an exclusive interview to Love Sport Radio today on Eddie Jones' mind games, the George Ford selection and whether or not England can beat the All Blacks on Saturday.
Vickery, who played in that famous 2003 World Cup winning side thinks England can beat New Zealand if they play to their full potential.
He told Love Sport Breakfast: "Will England go out this weekend and put in an old fashioned performance? Play a boring game of rugby and expect to beat the All Blacks? No. You've got to play, you've got to have skill and George Ford is one of the better players at being able to do that.
"He's got the skillset and defensively I think he's fine.
"The players around that team, it's not about one individual come Saturday, it's about the whole team. It's about when that whistle blows who's going to perform under that pressure.
"After that national anthem, that haka, for a lot of those guys, who's going to be able to perform their skillset at that moment in that game?
"I firmly believe with the skills and ability this England team has they can win that game. Yes, they need a little bit of Lady Luck but I honestly believe that.
"I went to the England camp and I came out of it thinking wow, the physicality, the athletes, the detail, the training, the skills. What an incredible group of athletes.
"I truly believe that these boys can do it. Do I want to be for the next four years the only World Cup winner. No I do not. Go on lads. It'll change your life."
On George Ford being recalled into the England side after missing the quarter final against Australia, Vickery said: "It's not a bad move.
"The Ford/Farrell thing - that seems to have been going on forever. People say it hasn't worked, it's not very good. But look at the stats around it, Ford's been our in form player, the stats will show you he's one of England's best defenders."
England coach Eddie Jones has been ramping up the mind games yet again ahead of the semi-final, which kicks off at 9am this Saturday, and Vickery likes it a lot.
He said: "As long as it doesn't become silly things or genuinely hurtful then the reality is both coaches are under a lot of pressure and both want their teams to win and I don't think it does them any harm.
"If you're a player and you're worried about what Eddie Jones says or Steve Hansen says, I question what you're doing.
"What I've heard this week has been more fun than anything else."
There has been some debate about the haka and whether or not New Zealand should be allowed to perform the Māori war dance before each game.
But Vickery thinks it's a rugby institution and they should be allowed to crack on.
He said: "I think it's a lovely tradition and an important part of our game.
"My biggest frustration is that it gets sung over now and I think the beauty of the haka is listening to it.
"I've heard people say it's an unfair advantage. Listen, if come Saturday afternoon you're playing New Zealand all blacks and you go out on the field and the haka is the thing that makes you a bit scared, I question what you're doing.
"It keeps our game different. It's an incredible part of New Zealand heritage. It's amazing."
And we couldn't let Vickery go without asking about his old 2003 World Cup winning teammates. It turns out they've still go each others' backs.
He said: "Us blokes are pretty rubbish at keeping in touch but when someone needs help we're all there.
"When I walk into a room with another one of the guys the hairs stand up on the back of my neck. I can't help that. It's an incredible memory and incredible thing we did."
Indeed it was. Hopefully this England team can repeat their heroics.
Tune in to Love Sport Radio for the best sports exclusives.