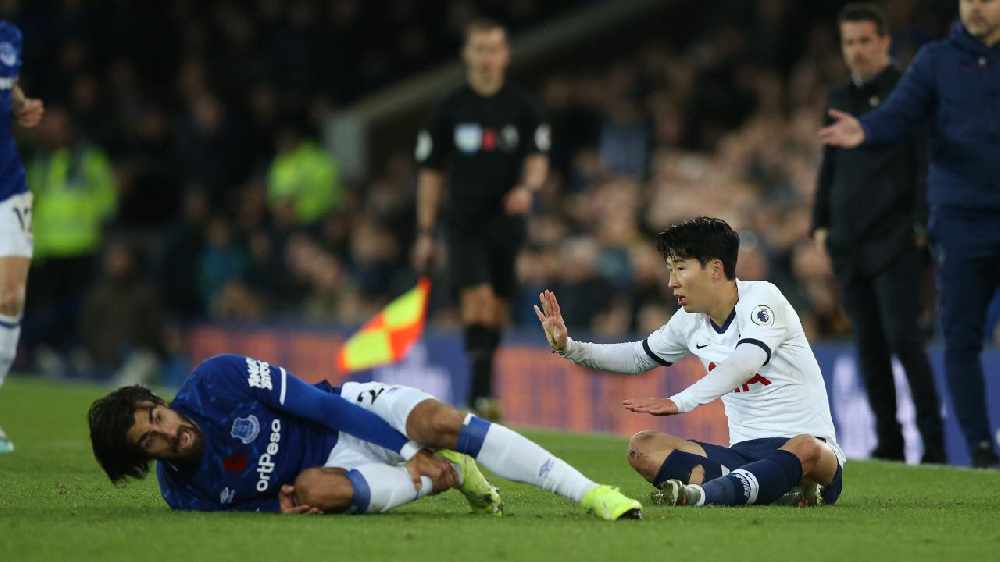 Tottenham's Son Heung-Min was devastated.
David Busst, who famously shattered his leg playing against Manchester United, has issued some kind words of advice to Everton's Andre Gomes.
Gomes suffered a horror injury at the weekend following a tackle from Tottenham's Son Heung-Min and underwent surgery.
Busst had to endure a career ending injury while playing for Coventry against United at Old Trafford in 1996.
He had to undergo 12 operations in 10 days, contracted MRSA and has a dropped foot as a result of having tendons and muscles removed.
Busst has some words of support for the stricken Gomes, telling Love Sport Radio: "If you're reading anything with my name on it then don't.
"He will make a full recovery. The thing I will say is to set his own goals.
"If people are telling you you'll be back running and training in three months time and that doesn't happen it can be demoralising but if you set goals like, when will I be running again, training again, playing again."
Describing his injury, Busst told Love Sport Breakfast: "It's 23 years ago now. The actual break I suffered at Old Trafford mended and knitted but it was the soft tissue injuries to muscles and tendons in my right leg and they had to be cut away so it left me with a dropped foot.
"The important thing with dislocation is whether or not the bone has come out the skin.
"If it hasn't then there's no infection. As long as they could get it back in position he's fine and they were on the field within 12 seconds treating him.
"As horrific as it looked as long as it resets it's fine. If it's just a clean break it will heal, if it's a spiral fracture it's an issue.
"I wouldn't be surprised to see him back training within three, four, five months.
"I was in Manchester hospital for six weeks, I had 12 operations in the first 10 days.
"I had a lot of media coverage at the time. Then all of a sudden three months later you go back and see the lads, you're not part of that anymore, you're not playing, the jokes, the camaraderie, that's what you need and that's what you're taken away from.
"That's the big thing. The immediate fears Andre would be having is am I going to play again but depending on how resilient you are…most footballers are. They have to have a positive mindset and determination."
Tune into Love Sport Radio for the best exclusives.