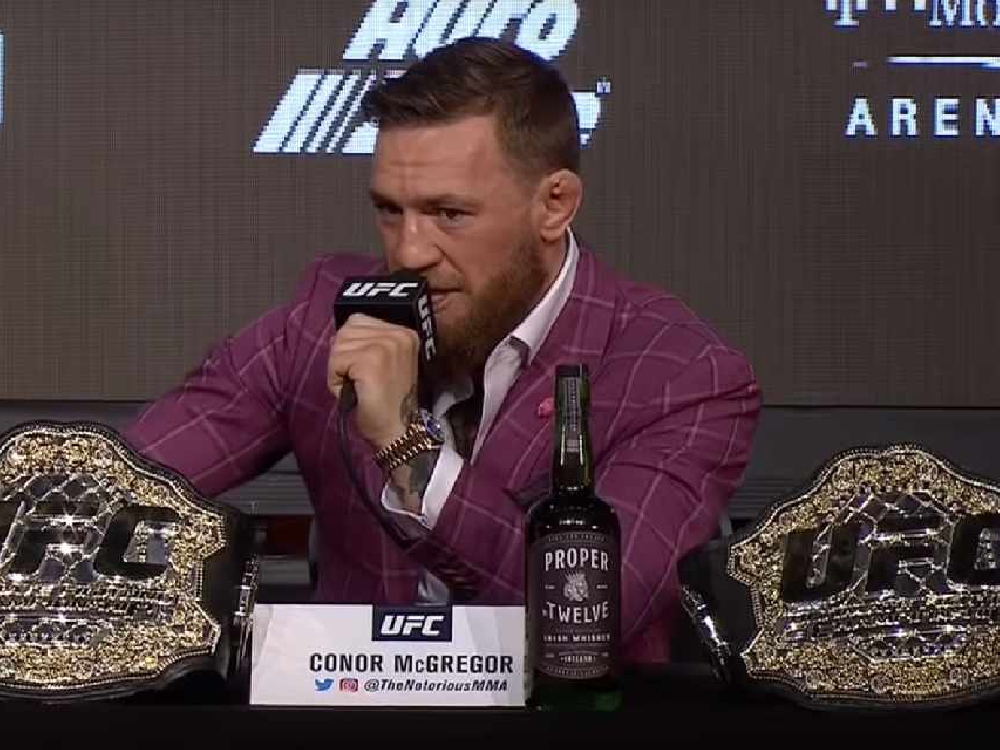 Conor McGregor does not have as good a record in the Octagon as Khabib Nurmagomedov, nor does he have a particularly great one out of it.
Nurmagomedov is now 27-0 as a mixed martial artist while McGregor suffered on Saturday night his fourth career defeat.
The last two years of the Irishman's life, during which he made more money than ever before and started a family with his long-term partner Dee Devlin, were blighted by a New York court case. The incident, in which he attacked a bus carrying Nurmgomedov and his team, saw him emerge with a period of enforced community service and anger management classes.
It was not a savoury way for the 30-year-old, who before Saturday had not fought in his native UFC for nearly two years, to keep himself in the public eye - even if it was an effective one. But it was not good for UFC's image.
McGregor fighting where he is supposed to clearly is good for the franchise's image. There are not many sports stars more popular than McGregor inside or outside the sport with which he has become synonymous. He is a monumental figure with an Instagram following to match; his reach, glamour and popularity make him eminently marketable.
Add to that a foray into the more mainstream sport of boxing against a man whose career combined an unbeaten record and a taste for big money - Floyd Mayweather - and you've got yourself someone who should be able to carry any sport to the top of every website.
But mixed martial arts has not done that. "Cage-fighting" - as it will always be called by so many - still has an enormous image problem which it will have to crack if it wants to become truly mainstream. It is, by its very nature, violent, brutal and at times horrifically bloody.
But it can also teach a number of valuable skills. It combines elements of so many martial arts that rely on its exponents to study, to show discipline and self-control. There is no doubting that someone like McGregor, when he gets into the Octagon, has these character strengths. His fighting record proves it. His criminal record disproves it.
And on Saturday night in Las Vegas, UFC once again proved why it still has so far to go to reach a point where it can produce the kind of revenue its biggest star currently has to switch codes to boxing to generate.
The fight itself had plenty of merit. It was an important fight, one that McGregor was right to take. It was one of the best strikers against a man with a relentless engine and stellar ground game. Tactically, it was an intriguing match-up, even to the layman. It proved as much - but what followed forced it into insignificance.
Nurmagomedov, having successfully defended his lightweight title by way of a fourth-round submission, should have sat on top of the fence and held the belt aloft. A Russian fighting in Vegas, he was not a popular winner but would have received the adulation of a crowd impressed by his remarkable stamina and ground skills.
That's what should have happened. But just like when McGregor raised the stakes, Nurmagomedov's biggest mistake came outside the Octagon. He leaped over the fence and made for McGregor's team, prompting a melee that led to three arrests and spilled back inside the Octagon towards McGregor himself. By the time the official result was announced, both fighters had been whisked out of the arena.
"I actually think the police and security did an incredible job," said UFC chief Dana White. But it was a job they should never have had to do.
Mixed martial arts has got a chance in the UK. Thanks to the work of the Team GB Olympic boxing set-up and the fighters they have produced like Anthony Joshua, and promoters like Eddie Hearn and Frank Warren, boxing has experienced an unprecedented rejuvenation. The British public are ready to accept combat sports as part of the traditional sporting calendar.
But while UFC continues to make headlines for all the wrong reasons, mixed marital arts will be destined to remain on the fringes, fighting with itself.