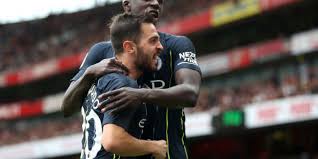 Paul Mortimer doesn't think Silva is a racist - but does say he got this one wrong
Manchester City's Bernardo Silva has been banned for one match and fined £50,000 after an FA commission accepted he "did not intend" a tweet about team-mate Benjamin Mendy to be "racist".
It's a judgement which has divided opinion. Speaking to Love Sport Radio, former Charlton star Paul Mortimer said although Bernardo wasn't trying to be racist, he got this one wrong.
"It's the behaviour we want to look at, not labelling. Is this offensive behaviour? Yes. Does it have racist connotations? Yes. Is he a racist? Probably not".
"But what he's got to realise - because he probably didn't realise - is that this kind of joke is offensive. It's about educating him, not slapping him on the wrist, so he doesn't do it again".
And Mortimer stressed that the emphasis should be on education, rather than retribution.
"I'm not interested in banning him. I'm interested in taking his time. For example, send him into schools and tell him to explain to kids why he thought that was funny. He needs to realise the impact this kind of has: people are upset by it, people are offended by it, and Bernardo Silva needs to witness that first hand.
"It is a problem, it does hurt, and it does take people back to certain places. It's not racism, it's ignorance. I just don't think he's aware of how belittling it can be".
Listen to Love Sport Radio on DAB Digital Radio, Online, smart speaker on via the Love Sport Mobile App.