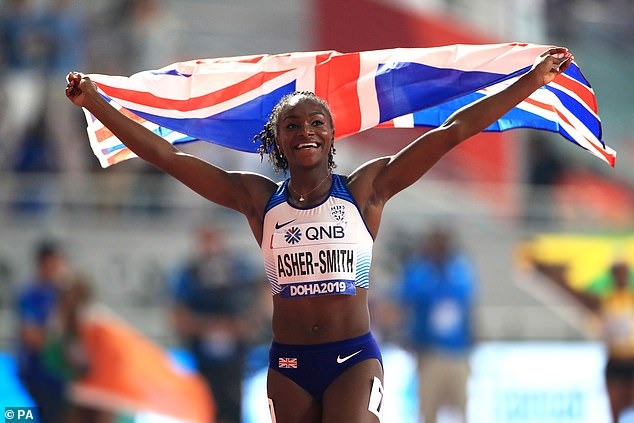 Can Dina go all the way?
Dina Asher Smith already has an extraordinary story, from working as a kit carrier at London 2020 to becoming European champion in 2016 and 2018. Now, she's got a silver medal in the World Championship 100m to add to her collection, becoming the first British woman to win an individual World Championships sprint medal in 36 years in the process.
But she's not done there. Speaking to Love Sport Radio, former World Champion Iwan Thomas said that while the silver is a momentous achievement, she'll have her mind set on even greater feats.
"The way she's been the last couple of years, she is a world beater, she's so ambitious, she wants to be number one. When she reflects this morning and thinks she's smashed the British record, she's got a medal on the world stage, she'll be delighted".
"The nation must be very proud of her. What a performance! She was superb. And of course she now runs in the 200m and I'm tipping her for gold, I think she will win the 200".
Thomas was in no doubt that she can go right to the very top.
"It's not over yet. I spoke to her coach and her mum after the race and they were both delighted but they both said 'listen, it's only half done' - it's not over yet, you wait. I'm expecting something very special".
"She will probably be Olympic champion. If Dina can keep injury free she's only naturally going to get stronger and faster. We definitely haven't seen the best of Dina Asher-Smith yet!"
But Asher-Smith's brilliant performance was underappreciated by a part empty stadium. Despite Doha coming under fire as a sub-optimal host, Thomas told Love Sport Radio that Dina will still be delighted with her medal.
"By the time they did the lap of honour a lot of people had gone. The problem out here is a lot of spectators have curfews for when they've got to be home by, so it's not been as busy as we'd have liked out here".
"For some of the events, the noise inside the stadium has been good. OK, there's a lack of spectators, but the ones who are here are really making themselves heard".
"I think for Dina it's all about getting that global medal. Of course you'd rather race in front of a sell out crowd, but it's all about the result".
Listen to Love Sport Radio on DAB Digital Radio, Online, smart speaker on via the Love Sport Mobile App.